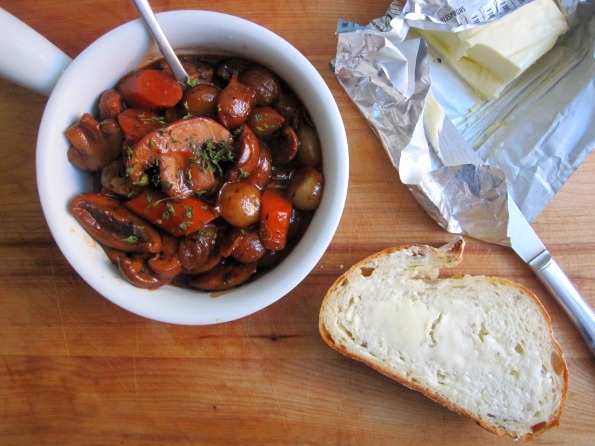 I could have called this post Why-Julia-Child-Would-Have-Good-Reason-To-Hate-Me Bourguignon but that's nowhere near as catchy as Champignon Bourguignon. Please, say it out loud, or at least enthusiastically in your head, with your best/worst French accent: Champignon Bourguignon. Champignon Bourguignon. It's especially fun when said with disgust, which I would guess is how most French people would say it. Champignon! Bourguignon! Non!
Let me detail out why Julia would tsk:
I used frozen pearl onions. FROZEN!
There is no beef!
I lessened the amount of wine and it was not with the intent of leaving more for me to drink. French chef fail!
This whole thing takes about an hour, not the epic 6 hours of the original.
I crowded the mushrooms. I crowded them real bad.
I repeated "champignon bourguignon" in my head in an absolutely terrible French accent the entire time I was making it.
I used dried herbs!
This could be an "easy weeknight meal" — WHAT? A bourguignon? NON!
I kinda doubted her use of tomato paste (which I shouldn't have)
I don't even OWN a string of pearls.
But before we get too discouraged, Julia would have one reason to like me a whole bunch: I'm pretty liberal with the butter.