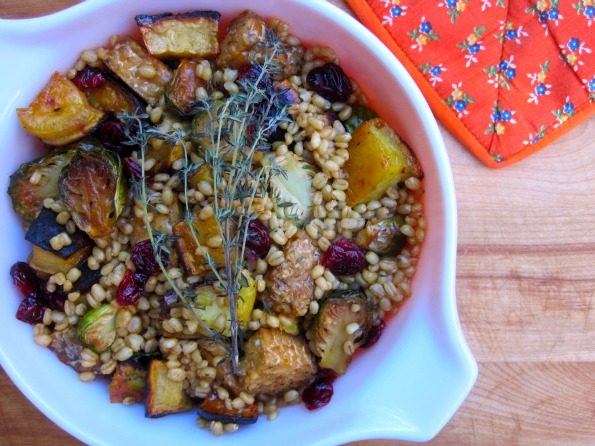 I accidentally whipped up Thanksgiving and then topped it with more Thanksgiving and then was disappointed because I was just trying to make something autumnal. But these are the sorts of ups and downs one must endure when one has elected to have a cooking blog and such, therefore and without further ado. SO I WILL ENDURE THEM.
If we lived in a better world, this glaze would be legally required to cover everything, including ourselves and our pets. You have not smelled good until you have smelled maple syrup and thyme together. Did you know this? I did not know this. I have wasted many years not putting thyme in maple syrup. Those were dark dark years.
Onward to the recipe, shall we?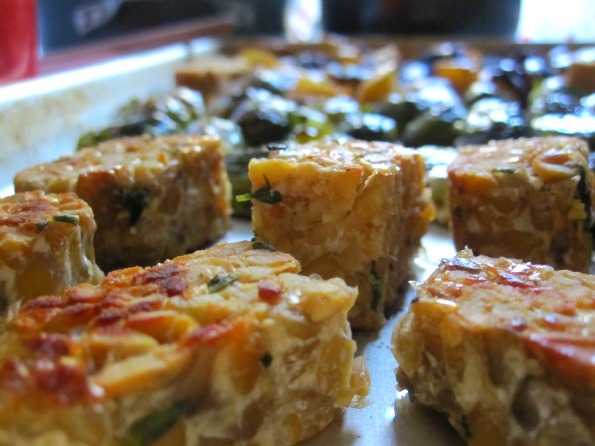 You can go ahead and make this very recipe or you can use what you have on hand, which is the route I officially endorse. I also endorse this being a great way to use up Thanksgiving leftovers in a way that still retains their Thanksgivingness. (Aside: I always find it funny when Thanksgiving leftover recipes try really hard to not be Thanksgivingy. Stuffing enchiladas anyone? No.)
I roasted sweet potatoes, Brussles sprouts and tempeh and originally put them on wheatberries and topped with dried cranberries like some kind of fall-harvest inspired stir fry. Poor little wheatberries were too bland for that though so I wound up mixing it all together casserole style. Thumbs up!
What else would taste good in this glaze … old shoes, apples, any sort of squash, roasted peaches, sauteed greens, nuts, carrots, onions, root vegetables, garlic, tofu. Oooo, roasted sweet potatoes, apples and walnuts in this glaze would be ah-mazing together. Hurry up, Thanksgiving!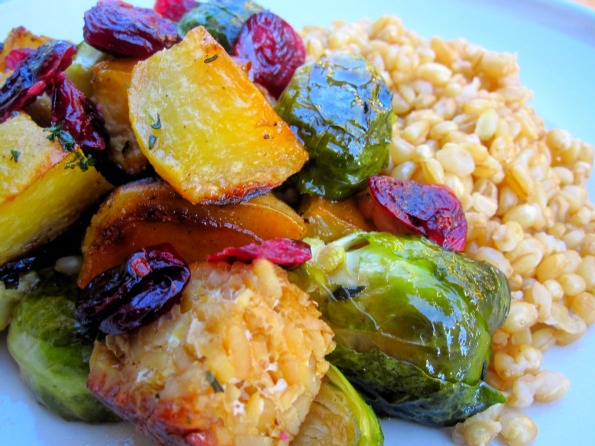 Maple-Thyme Roasted Tempeh, Vegetables and/or Fruit
(This delicious glaze is courtesy Cook's Illustrated)
Glaze:
1/4 cup maple syrup
2 tablespoons melted butter or margarine , unsalted
2 teaspoons fresh thyme leaves, minced
To make the glaze, melt the butter/margarine over a low-medium heat. When melted stir in syrup and thyme. Set aside to mingle.
Roasting Vegetables, Soy or Fruit:
Olive oil
Salt and pepper to taste
Depending on what you choose to roast, each item will require a different cooking time. I roast at 400º and a generously cubed potato would take about 40 minutes. I would put my longest roasting vegetables in first and then add in the rest as appropriate. Here are my guesses at cooking times:
Dense root vegetables: 40 mins
Onions, Brussels sprouts, carrots, tofu or tempeh cubes or slices: 30 mins
Fruits, garlic, nuts: 20 mins
Use your judgment based on how big the dice is and how they look as they cook. You can also consult the webbernets for suggested times for your items, the internet is very handy in that way.
To roast: coat each item in a drizzle of olive oil. You don't want them dripping with oil, but you do want them slick. Add a generous pinch of salt and pepper, toss again and spread out on a greased or parchment lined lipped cookie sheet/jelly roll pan. Put in a pre-heated oven.
How to use a glaze on roasted vegetables:
You don't want to cook the glaze the whole time, the sugar would burn and it would be a stinky mess. Add the glaze when you have about 5 minutes cooking time left. Brush it on, getting the sides of the veggies/fruit/tofu too. Return to oven for remaining roasting time. You can coat the veggies again when finished and still hot or you can add additional glaze to the wheatberries or whatever grain you are serving it with, if you are serving it with a grain.