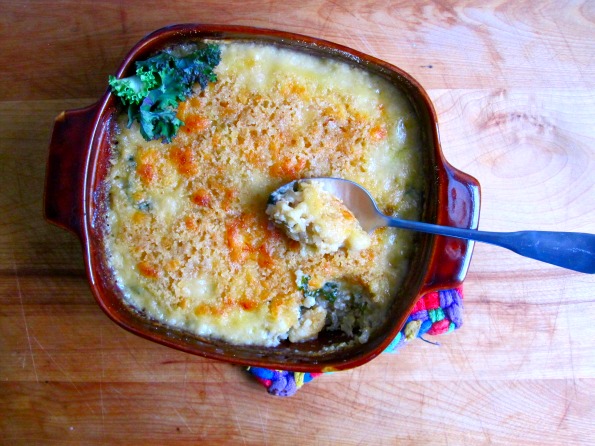 OMG this is so good. Yes, I did just start this post as though it were a text message, but hear me out: this is absolutely delicious. I'll even bet good money that it will become an immediate staple in your recipe repertoire.
Seattle is culinaryly lucky in many areas like donuts, coffee and wood–fired pizza. We are also lucky in cheese. Who knew, right? This recipe is take on Beecher's Brown Rice and Kale Gratin. Beecher's is a handmade, artisan cheese shop in Pike Place Market. They have world's best mac and cheese, squeaky cheese curds, amazing sandwiches and a handful of other creations made with their signature Flagship cheese, which is a sharp, white cheddar. There is plenty of that in this gratin meaning you can't really go wrong no matter how much kale you add.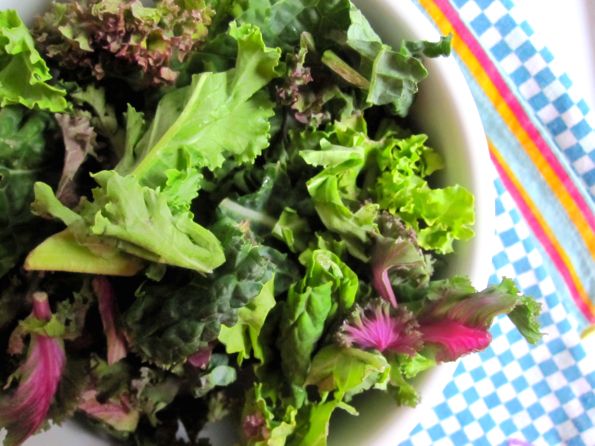 Speaking of kale. It's the #1 good-for-you food according to my nutritionist who I hope hasn't seen this post. Or this one. But I digress. Her encouragement of my kale consumption has led me to trying kale again and again in an attempt to love it like I want to. I'm not quite there yet. I still make a bit of a face when it's too over powering. When I saw this recipe I had a bit of a head slap moment — of course, put cheese on it! It's the age old trick of how parent's get their kids to like broccoli! My goal is to eventually not need the cheese, but in the meantime, it's quite tasty.
This recipe also has made me a fan of short grain brown rice in gratins. I urge you to consider adding some to whatever gratin you happen to be whipping up. It never gets soggy, adds a perfect nuttiness and is chewy. I'm a fan of chewy. I'm sure the French would disapprove but just don't tell them. They are very busy pressing their striped shirts and enrolling in mime classes anyway.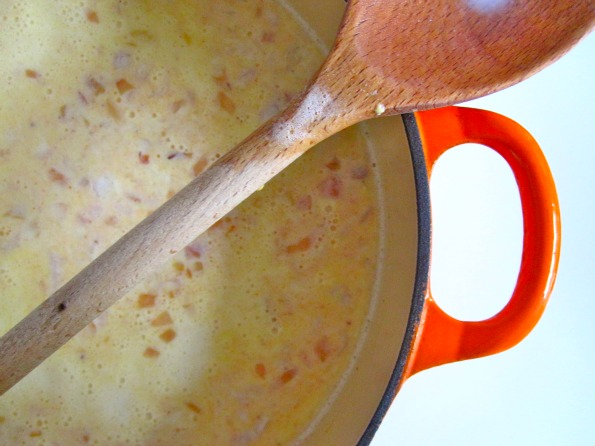 I know it's not even Halloween yet but I'm gonna go ahead and say this would make an unbelievable side dish for Thanksgiving. It's hearty and its flavors will meld well with all the other pasty goodness on your plate.
Brown Rice and Kale Gratin
(Recipe adapted slightly from Kathryn's)
Ingredients:
1 large shallot, minced
3 tablespoons butter
2 cups short grain brown rice
6 cups of 2% milk
1 large bunch kale, enough to make 2 cups when finely chopped
1/4 teaspoon nutmeg
1/4 teaspoon cayenne pepper
1 teaspoon dijon mustard
1 tablespoon light colored vegetable stock concentrate or 2 bouillon cubes
6-8 ounces of extremely sharp cheddar-style cheese — Beecher's if you can get it!
1/2 cup of bread crumbs
The prep:
Melt butter in a heavy bottomed 3.5 – 6 quart pan. Add shallot and saute until brown.
Add brown rice and saute with shallot for about 5 minutes, until it starts to get a little toasted.
Add milk, stock concentrate, spices and dijon. Bring to a boil. Once at a boil, lower heat to a simmer and cover for 45 minutes – 1 hour. You can peek and stir occasionally without problem.
Now is a good time to preheat your oven to 350º.
At the end of the rice's cooking time, add in 2-3 cups finely chopped kale. More if you love it, you lucky, healthy person, you. Cook an additional 5 minutes of so to help soften the kale.
At this point it should be rather thick. If it is not, put two tablespoons flour in a small bowl and add some of the remaining liquid from the rice mix. Stir to make a roux and add back to pan to thicken. (If you are more of a corn starch fan, use that instead. I think with corn starch you'd be OK with just 1 tablespoon.) Once thick enough to be like a wet paste, spoon into 9×13 casserole dish. Top with grated cheese and breadcrumbs (cheese first!) and put into preheated oven for 30 minutes or until top is golden brown and bubbly.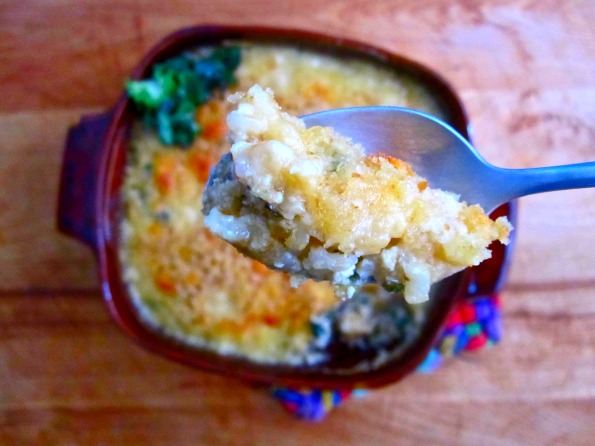 Enjoy!