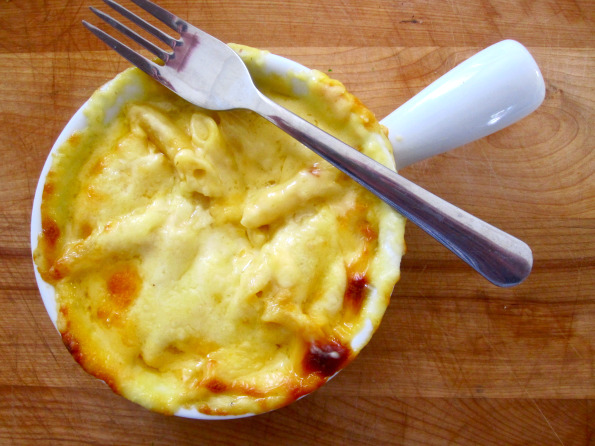 Friends, I have a question for you: when you see a blog post for macaroni and cheese (like this one!) does it A) make you want to try that *specific* macaroni and cheese or B) send you running to the kitchen to make your tried and true favorite mac and cheese?
Here is my hunch. Macaroni and cheese recipes are like hair dressers. Once you have one you like, you always return faithfully. But if you don't, well, you shop around. Sprinkle some smoke mozzarella on some noodles here, fold in some blue cheese there. You're a chef on the hunt. But what I don't know is the ratio. Is it 50/50? 80/20? Have you found your bubbly, golden, cheesy BFF?
I have.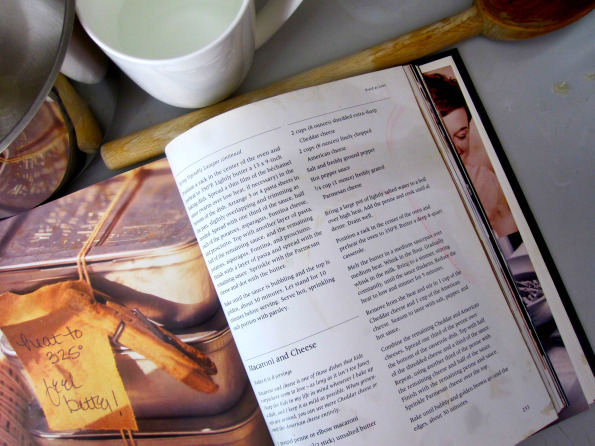 Or rather my friend Laura has, and by extension (tasty, tasty extension) I have, too. Where most chefs add, she's subtracted. Cooking for big groups and lots of kids she's found the more basic she makes this recipe, the more ooo's and aaah's she receives. I was lucky enough to join her in her kitchen (Whisk Flip Stir on the road!) while she was whipping up batch after batch to take to a friend-filled Labor Day weekend on beautiful Whidbey Island in Puget Sound.
The recipe is really simple. And even uses American cheese — but you probably wouldn't know it. While capitalizing on the unparalleled melting ability of American cheese it offsets its often lack-luster flavor with a boatload of really sharp cheddar. The resulting blend tastes 100% cheddary, almost like the American cheese is a secret ingredient.  And we all know how I love secret ingredients. I LOVE THEM SO MUCH.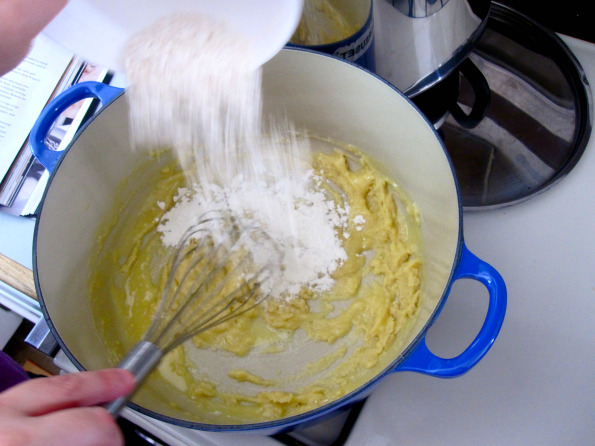 All in all, it was a fun morning of cooking, and talking, and hanging out with her little boy Henry and their two wiener dogs who REALLY LIKE licking my pants. Apparently, I have delicious pants.
Lastly, a few tips:
Find the best American cheese you can. Ask in the deli if they have Boar's Head American by the pound or check the dairy case for an American made by your favorite local cheese mogul. Either white or orange American works.
Then find the sharpest cheddar you can afford. We used Tillamook Vintage White Extra Sharp Cheddar Cheese and it was perfect.
We picked penne over elbow macaroni but any tube-shaped pasta would work.
If you are transporting this mac + cheese to a second location, you can par-bake it and finish the baking on the spot. The par-bake is about 15 minutes, just long enough to melt the cheese so the whole thing cools in a solid chunk for no sloshing in transport. Brilliant!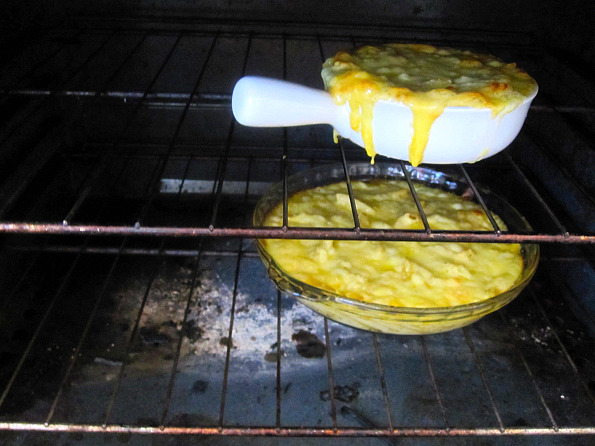 Basic Macaroni and Cheese
(adapted from Art Smith's Back to the Table)
The Usual Suspects:
1 pound penne or elbow macaroni
4 tablespoons (1/2 stick) unsalted butter
1/3 cup all-purpose flour
4 cups milk , heated
2 cups (8 ounces) shredded extra-sharp cheddar cheese
2 cups (8 ounces) finely chopped American cheese
Salt and freshly ground pepper or white pepper.
1/4 cup (1 ounce) freshly grated Parmesan cheese
Directions:
Preheat oven to 350º.
Butter a 4 inch deep casserole pan. A 9×13 would work, too.
In a large pot, cook penne until al dente.
In a medium saucepan, melt the butter until foamy. Whisk in the flour. You are making a roux – it will be pasty. Then gradually whisk in the milk a cup at a time. Bring milk, flour and butter mix to a simmer, stirring constantly, until the sauce thickens. Reduce the heat to low and simmer for 5 minutes. Keep an eye on it and stir as necessary.
Remove from the heat and stir in 1 cup of the cheddar cheese and 1 cup of the American cheese. Season to taste with salt, pepper. We dipped noodles in to test the flavor for salt and pepper. It didn't need much salt at all.
Combine the remaining cheddar and American cheeses. Spread one third of the penne over the bottom of the casserole dish. Top with half of the shredded cheese, all of the Parmedan and a third of the sauce. Repeat, using another third of the penne, most of the remaining cheese and half of the sauce. Finish with the remaining penne and sauce and your last sprinkling of cheese.
Bake until bubbly and golden brown around the edges, about 30 minutes. Enjoy! Try to let it cool before eating it, if you can. It's like lava right from the oven.