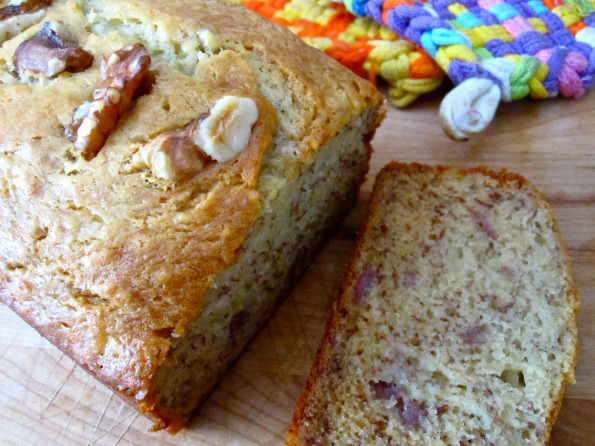 Here is the thing about banana bread: as each recipe gets passed along someone adds a banana. And if they didn't add a banana, they added more vanilla. Eventually there will be a banana bread recipe that is nothing but bananas and vanilla. I have never been offered a slice of homemade banana bread without the whisper of the baker's banana bread secret, "The recipe called for 3 bananas, but I added 4." Always said with a gleam in their eye. These banana bread baking rebels are everywhere.
And yes, *of course* I added an additional banana. It's banana bread baking tradition! I'm not about to mess with it.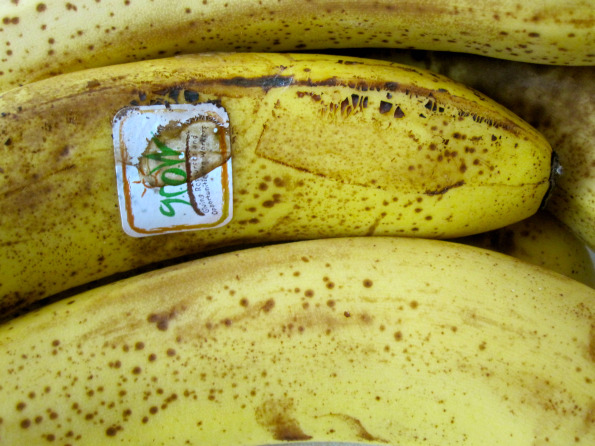 If there was a chart showing my banana bread baking activity through out my adult life, there would've been a dramatic spike about two years or so ago with the advent of AmazonFresh. If you aren't lucky enough to live in Seattle, but are instead lucky enough to live where you do, you might not be familiar with AmazonFresh. It's home grocery delivery powered by Amazon.com. Meaning I get soy milk, peaches and the JavaScript book sitting to my left wondering why I haven't opened it in three days delivered to my doorstep with the mere click of a trackpad.
But more than just the ease of delivery, it's this deal that's responsible. Barring a pet monkey, a mere mortal can't possibly expect to eat their way though the cubic yard of bananas this value pack gets you. So what's a girl to do? Bake banana bread! What else is a girl to do? Give away loaf after loaf of it to her friends! Suddenly, I'm very popular.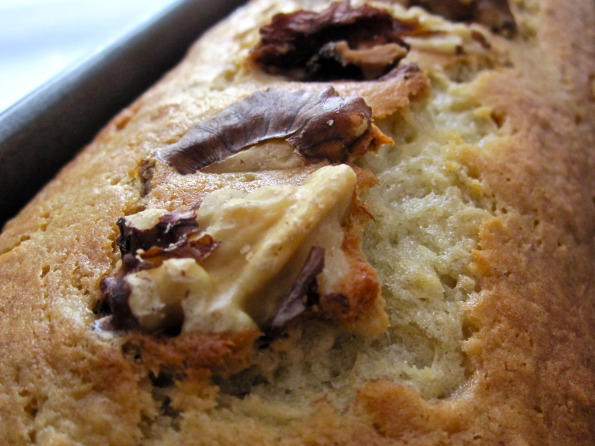 This has been my go-to banana bread recipe for some time, mainly because I'm a sucker for sour cream in baked goods. This bread is dense, moist (seriously, what is a good synonym for moist?) and banana-ful. I urge you to give it a go. And I further urge you, no dare you, to add another banana.
Sour Cream Banana Bread
(adapted from Cooking Light)
Ingredients:
1 cup sugar
1/4 cup butter, softened
1 2/3 cups mashed ripe banana (about 3 bananas OR IS IT FOUR?)
1/4 cup milk
1/4 cup sour cream
1 large egg
2 cups all-purpose flour
1 teaspoon baking soda
1/2 teaspoon salt
1 teaspoon vanilla
Cooking spray for pan
Preparation:
Preheat oven to 350°.
Combine sugar and butter in a bowl; beat at medium speed of a mixer until pale yellow and fluffy. Add mashed banana, milk, sour cream, and egg; beat well.
Combine flour, baking soda, and salt in a separate bowl; whisk to blend. Add dry ingredients to creamed mixture – 1/2 then beat until combined, then the last half, beat until combined.
Spoon batter into loaf pan coated with cooking spray. Bake at 350° for 55-65 minutes or until a wooden pick inserted in center comes out clean. Let cool in pan for 10 minutes; remove from pan. Let cool completely.
(As you can see, I made a double batch. So. Many. Bananas.)