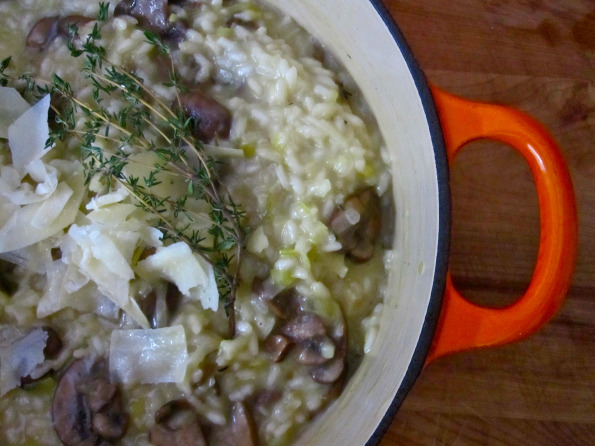 Hey! Guess what? It's LeekWeek™ on the blog! Yeah, I didn't know either! I think it's what happens when you have too many leeks and you also have a cooking blog. The two, they collide! You can't help it.
As you may recall, my first LeekWeek™ post was Potato Leek Soup. While that soup was super tasty, making it twice would've been silly. I mean, mmmmaybe it would have boosted me a page or two in search results for "potato leek soup just one potato and maybe a slice of bread as a secret ingredient" but I didn't think the boost was worth boring you, my dear readers. (Hi, Mom!) So instead I hit the virtual books and put together this unbelievably good risotto that will make you a LeekWeek™ #1 fan.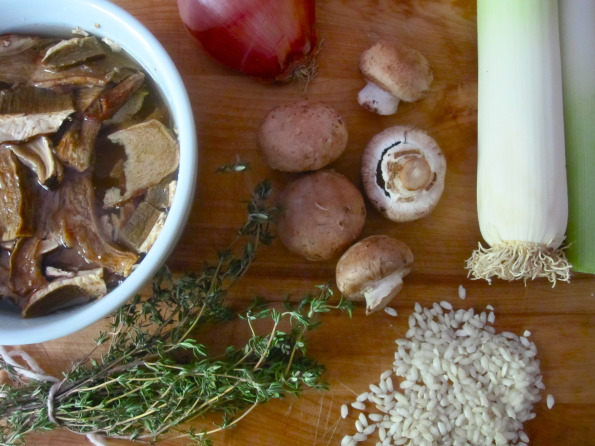 We all know the key to risotto is the stirring. So much stirring. It makes the rice starchy, which in turn makes the risotto creamy. Risotto is also about the timing. You can't add all the liquid at once and instead you have to slowly ladle it from one simmering pot to another and stir stir stir until it's absorbed and the rice is ready to take another spoonful. I tried to stir and photograph this absorption process at the same time — harder than it sounds! Below you have the steam filled photographic evidence.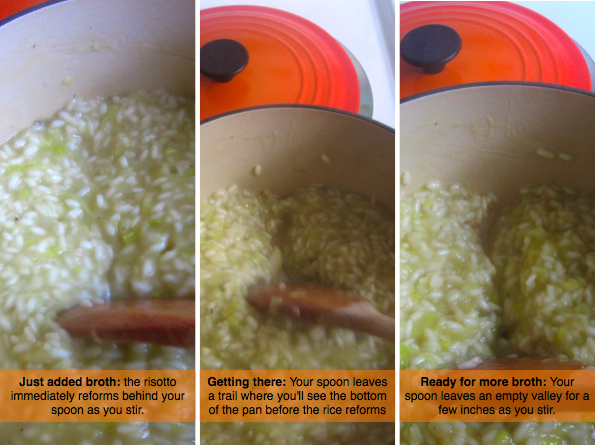 Risotto takes about 20 minutes from the point when you add the rice to the point when it is delicious. As a rule of thumb, broth should be added by the half cup every two minutes. I set my timer for the full 20 minutes and add broth as it passes each even number on its way down to zero. It's worked for me every time, but you'll want a quick taste test before taking it off the heat. Crunchy = bad.
Remove the leeks and the mushrooms and you have a pretty standard risotto base in this recipe. Use what you have on hand, experiment. I kind of suspect that risotto is like puff pastry — even a shredded tennis shoe mixed in would probably taste OK. How can you go wrong with all that butter and cheese? You can't.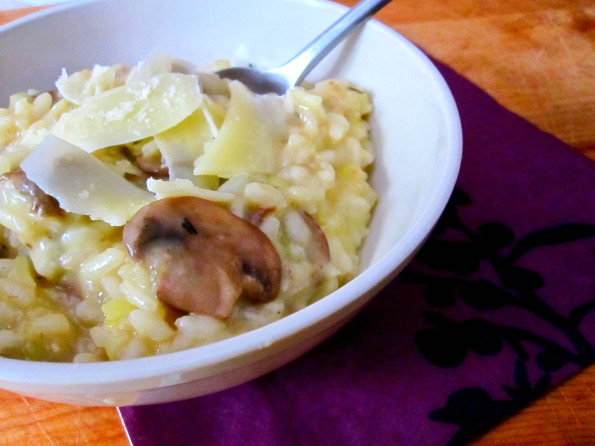 Mushroom Leek Risotto
(adapted from Smitten Kitchen)
5 cups light colored vegetable broth
1 cup water
2 cups sliced leeks (about 3 medium or 2 large leeks)
8 oz. (typically 1 package) crimini mushrooms
.5 oz dried porcini mushrooms, rehydrated according to package instructions
2 tablespoons olive oil
1/2 teaspoon dried thyme
2 cloves garlic
1/2 stick unsalted butter
1 shallot, finely chopped
1 1/2 cups Arborio rice
1/2 cup dry white wine
1/2 cup shaved Parmesan cheese
salt and pepper to taste
Heat oil with 1 tablespoon butter in a large heavy saucepan over moderately high heat until melted. Saute mushrooms, stirring occasionally, until browned, about 4 minutes. Add garlic, pepper, and dried thyme. Saute an additional 2 minutes or until liquid starts to subside. Transfer to a bowl and set aside.
Heat broth and water together in a large sauce pan. Bring to a boil and then reduce to a simmer. This will be the broth you add to the risotto.
In same pan as you sauteed the mushrooms, heat olive oil and 2 tablespoons butter. Add shallot and leeks. Saute until tender, about 5 minutes. Add rice and stir to incorporate. Add wine and continue stirring until absorbed, about 2 minutes.
Set a timer for 20 minutes and ladle in 1 cup broth. Cook over medium heat, stirring constantly until absorbed (see above photos), about 3 minutes. Continue stirring and adding broth, about 1/2 cup at a time, at about two minute intervals. Around the 18 minute mark, test to see texture of rice. You want it chewy but not crunchy.  Continue adding broth and stirring until desired consistency is reached. You will probably have some broth left.
Once done, remove from heat and stir in 1/2 cup Parmesan cheese and a tablespoon of butter. Drain any excess liquid from mushroom and fold in them into the risotto. Let stand, covered, for 1 minute. Serve immediately. Try not to lick your bowl if you have guests.