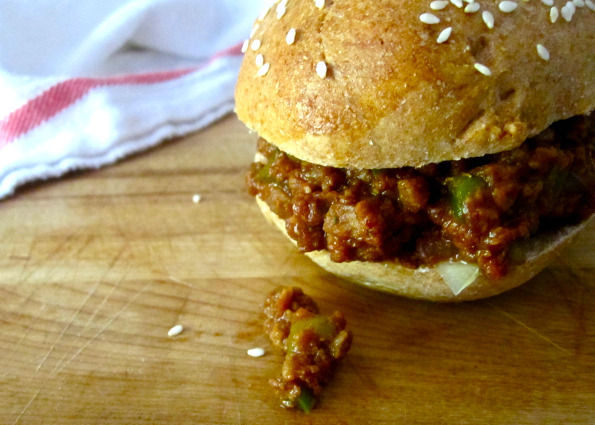 Back in the olden days of being a vegetarian not only did we have to walk uphill both ways to hippy school but we didn't have things like Morningstar Farms or Amy's. Being a vegetarian wasn't about convenience! It was about combining beans and rice for every meal so your muscles didn't atrophy. If you wanted a hamburger you had to make one out of tofu. These were tough times, people. Tough times.
But not anymore! Want a hamburger? There are like 30 vegetarian options to choose from! How about a breakfast sausage? There are 30 of those, too. Is this good? Well, I don't know. It's surely highly processed but for the occasional craving, I give in. For the day to day, I make my own seitan and am pretty adept at working tofu into something delicious. Moderation. It is key.
Enter Sloppy Joe — one of my favorites as a kid and Smart Ground makes it devilishly easy to whip up a batch without much fuss at all.

I once tried to mix canned sloppy joe sauce and fake burger crumbles together and HOLY SALT LICK! Woo-boy. That did not work. Did you ever try that? Makes me thirsty just thinking about it.
This recipe is a little bit grown up, but not so much so to be unrecognizable to the original. A little white wine, some Worcestershire sauce, a healthy amount of Cajun seasoning — they add a little something something without making it too fancy.

For Joe's introduction to you, dear readers, I made  whole wheat buns. They look lovely. They tasted great. They were considerably more dense than expected, which is pretty much the story of all my whole wheat bread experiments. For a laugh, check out what they were supposed to look like: be in awe of the fluff. Yeah. Mine were not like that. Not at all. Need a door stop?
But the good news, they were kinda perfect for the hearty sloppy joe. They didn't crush to nothing under the weight of the sauce. Add in a few slices of really sharp cheddar cheese and you're all set.
I could write a whole post on whole wheat baking but that should probably wait until I have at least one light-as-air success to point to. That said, if you've mastered it and would like to pass along any tips that would make me (and my whole wheat flour) very happy.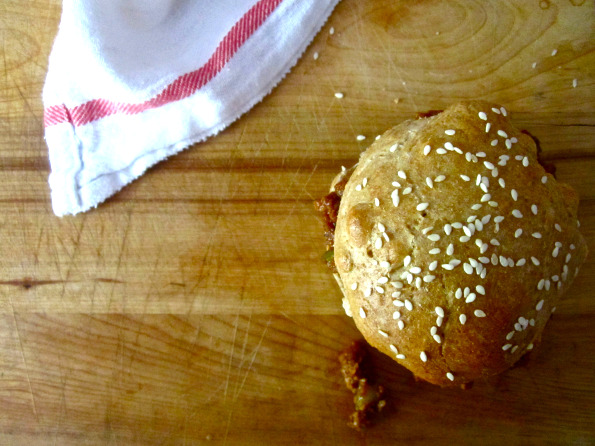 Vegetarian Sloppy Joes
Ingredients:
1 (12 oz) package of any brand veggie burger crumbles
1 cup diced onion (about 1 small-medium onion)
1 cup diced green pepper (about 1 pepper)
2 tablespoons olive oil
3/4 cup ketchup
1 (8 oz) can tomato sauce
1/4 c. white wine
1-2 teaspoons vegetarian Worcestershire sauce
1 tablespoon Cajun seasoning
1 teaspoon dried oregano
a few pinches of black pepper
Prep:
Heat olive oil in a medium to large saucepan over medium heat. Add onion and green pepper. Cook about 3-5 minutes until softened, but not brown. Add in veggie crumbles. Cook together about 2 minutes. Mix will be dry.
Add in ketchup, tomato sauce, Worcestershire sauce, Cajun seasoning and oregano. Mix together and cook until simmering. Create a space for the white wine to meet the pan (I moved the sloppy joe mix to the edges and created a "hole" in the middle). Add the white wine. It should start to boil quickly, once that happens, stir into the rest of the mix. This gets the alcohol out and leaves just the flavor.
Taste test! Add black pepper to taste. Perhaps more salt but it probably won't need any. You can mess with the ketchup and tomato sauce ratio if you want it reeeeeally sloppy. Simmer for a few minutes to incorporate flavors. Then it's ready to serve! I like it on a whole wheat bun with a slice of cheddar cheese.
This is a very adaptable recipe, add what you have on hand! I've added in carrots and other veggies with the peppers and onions with good results.