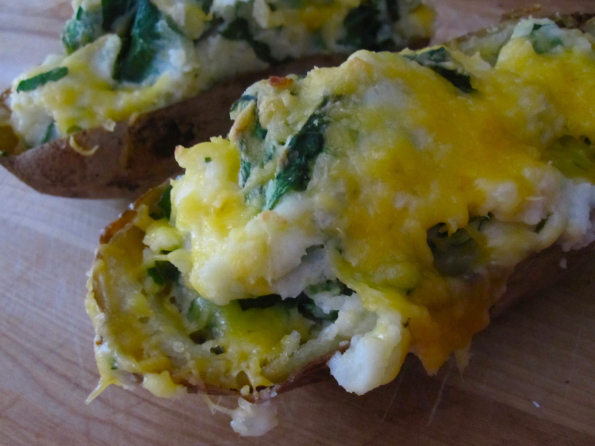 Po-tay-to. Po-tot-o. Either way, twice baked and stuffed with cheese is something we can all get excited about. Right? Right. It's the queen of comfort food. The high priestess of starch. The secretary of 'tater.
This recipe got me thinking about the mashed potato and its place in our collective hearts. For instance, a Google search of "I love mashed potatoes" returns 2.6 million results including t-shirts, a Facebook group and some guy who has that screen name on MySpace and who, you know, graduated from the London School of Business with a Master's Degree. For comparison, "I love turnips" yields a measly 1.3 million results, the top one being a guide on how to learn to love them. Poor turnips.
A quick poll of my friends was all good news for the mashed potato. Not a-one wasn't a fan. Clean sweep. Favorite way to eat them? Smooth. A little lumpy. Skin on. Skin off. Loads of butter. Sour cream + chives. In a boat, with a goat. Etc. And mine? I like them simple. Salt, butter. Maybe a bit of vegetarian gravy. But when I have potatoes on the brain, it's this recipe — cheesy, fluffy, spinachy perfection — that I turn to.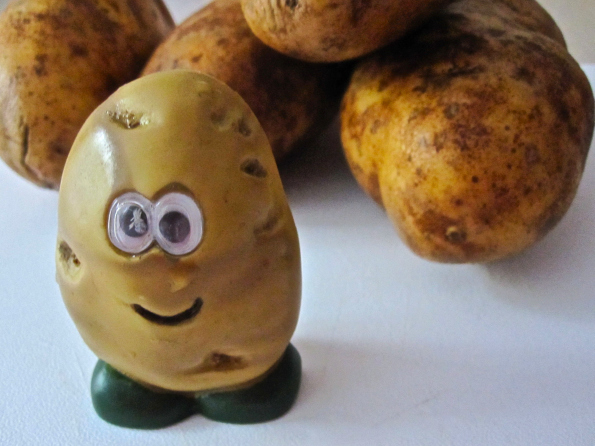 Some recipe notes:
If you ignore baking time, these virtually make themselves. If you don't ignore baking time, make sure it's a good night on TV. I mean, baking a potato ONCE takes like an hour. Twice? It's a commitment. I'm micro-wave free so I did it the old-fashioned way but if you're more of the instant gratification type, here are some resources for better microwaved potatoes:
Hopefully this helps if you're pressed for time. You'll still have to do the second bake in the oven, but you've just saved yourself an hour with that magic, food-cooking box that sits on your counter top.
Also, the original recipe calls for wrung-out frozen spinach, which I've used with great success. But this go-round I didn't have frozen spinach to wring out, I only had fresh spinach. I also had laziness. And not wanting to do more dishesness. What does that mean? It means I didn't sauté the spinach first, I just folded it into the mashed up potato and cheese mix. It made crunching noises. It was exactly how you'd imagine it to be folding salad into mashed potatoes. But! It worked! The spinach cooked during the second bake, no excess spinachy water, they came out perfect.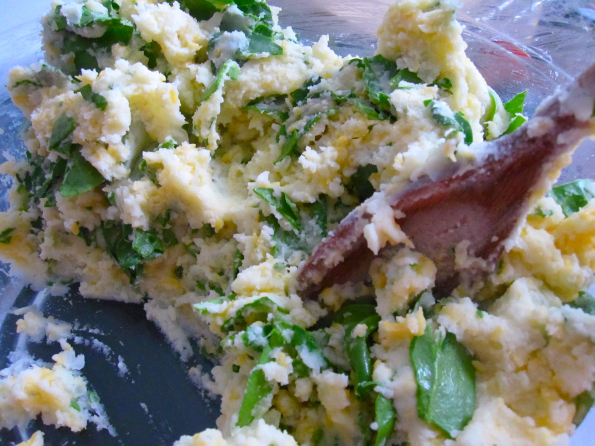 Twice Baked Spinach Potatoes
(Adapted from Cooking Light)
3  large Russet potatoes
1/2  milk
1/2  cup  cream cheese softened
2  cups shredded sharp cheddar cheese, divided
1/4  cup  finely chopped onion
1/4  teaspoon  salt
1/4  teaspoon  black pepper
1  (10-ounce) package frozen chopped spinach, thawed, drained, and squeezed dry
or 1 package fresh baby spinach
Preheat oven to 400°
Pierce potatoes with a fork, and bake at 400° for 1 hour and 15 minutes or until tender. Cool. Cut each potato in half lengthwise; scoop out insides, leaving a 1/4-inch-thick potato shell.
Mash potato insides with masher. Incorporate milk. Then softened cream cheese. Fold in 1 cup cheddar cheese, onion, salt, pepper, and spinach; stir well. Spoon potato mixture into shells; sprinkle with remaining cheddar cheese. Place stuffed potatoes in a baking dish; bake for 20 minutes in 400º oven or until thoroughly heated.
Yum!