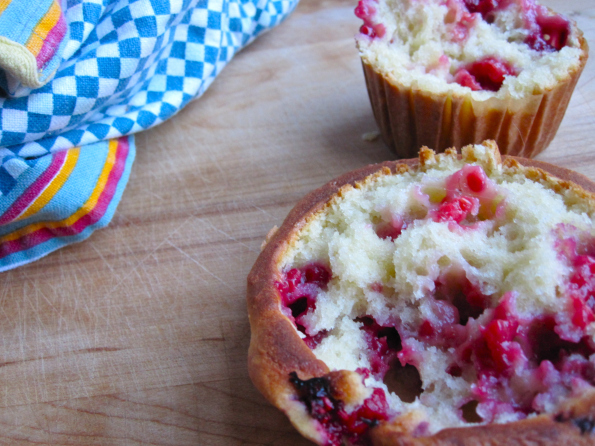 We live in the age of the large muffin. The size of your head muffin. The it-can-take-a-whole-day-to-eat-it muffin. While they definitely offer bulk, they usually don't offer much else. These mass produced behemoths lack flavor and texture — wholly unsatisfying which is a little surprising since it took two hands to lift.
But not all muffins are like that. Some are made with love. And real fruit.
Like these. These are the good kind. They're a wee bit denser than your typical run of the mill muffin with a flavor that is purely delightful. It's almond with that sour cream/yogurt tang and the raspberries are fresh and bright. So good. They truly taste much better than my description reads. My empty muffin pan can attest to that.

Making these reminded me that I really enjoy baking. I've read a lot about how it's more science than cooking and you need to be careful since each ingredient and its exact quantity is there for a Very Good Reason but after hundreds of preheats to 350º, I feel kind of invincible. Like nothing can go wrong that you can't fix. Like, say, you forget to cream the butter with the almond paste, you can blend the almond paste in with the yogurt later on when you realize that you've been following the wrong recipe. The muffins will come out fine. I know this from experience. Maybe even this actual experience. OK, yeah, that happened.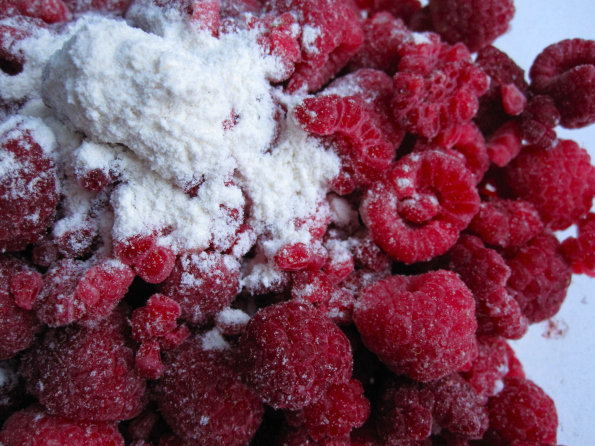 I also like baking because the ingredients are so basic. It's flour, eggs, sugar, powders and sodas. Things where the packaging hasn't changed in 50 years. Each ingredient is photogenic and perfect in its absolutely simplicity.
And lastly, everything you bake is delicious even if something terrible happens and it doesn't rise, spread, puff, cook in the middle or brown. It's still butter and sugar at its core and it'll still edible, even if you now need a spoon to do so.
These muffins were easy. Not a ton of ingredients, Kitchen-Aid made short work of the batter, which is on the thicker side for a muffin. Oh! That reminds me — I don't think fresh fruit would work in these but frozen fruit sure does. It needs to be a bit firmer to stand up for the folding. This batter isn't kidding. It takes no prisoners.
These would be good with blueberries or skipping the almond paste and adding in lemon zest and blackberries. How about going plain and coating them in cinnamon sugar? It's a basic and flexible recipe that you can truly go to town with. Just make sure it doesn't get too drunk and you have it home by 10.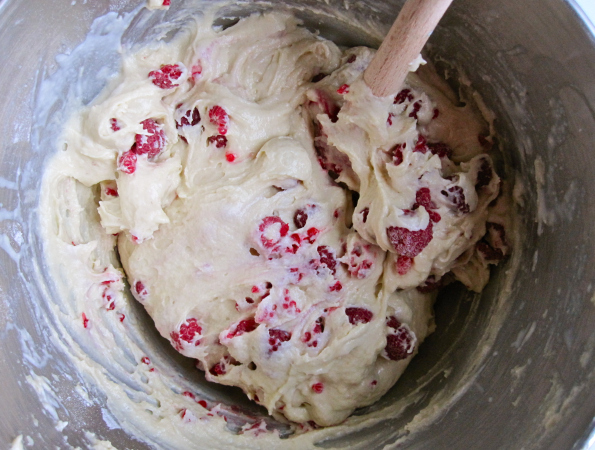 Raspberry Almond Muffins
(adapted slightly from Cook's Illustrated)
The Batter:
3 cups + 1 tablespoon all-purpose flour
1 tablespoon baking powder
1/2 teaspoon baking soda
1/2 teaspoon salt
10 tablespoons unsalted butter , softened
1 cup granulated sugar , less 1 tablespoon
3 tablespoons almond paste
1 teaspoon almond extract
2 large eggs
1 1/2 cups plain low-fat yogurt
1 1/2 c. frozen raspberries
Cooking spray for muffin tins
The Preperation:
Preheat oven to 375º, put rack in middle position.
Whisk together flour, baking powder, baking soda, and salt in medium bowl; set aside.
Beat butter, sugar, and almond paste with mixer on medium-high until light and fluffy, takes about 2 minutes. Add almond extract and both eggs, one at a time, beating well after each. Beat in one-third of dry ingredients. Beat in one-third of yogurt. Beat in remaining dry ingredients, alternating with yogurt, until incorporated. Remove from mixer.
Take raspberries out of freezer and put into bowl, coat with 1 T flour. Fold half into batter with a few strokes. Fold in remaining raspberries until incorporated well enough.
Spray 12-14 muffin tins with vegetable cooking spray or use baking cups. Fill each tin to the top. Bake until muffins are golden, about 25 to 30 minutes. Will be spongy and should spring back to the touch when done. Let cool on a wire rack for about 15 minutes. Will keep nicely for a few days covered in plastic wrap.