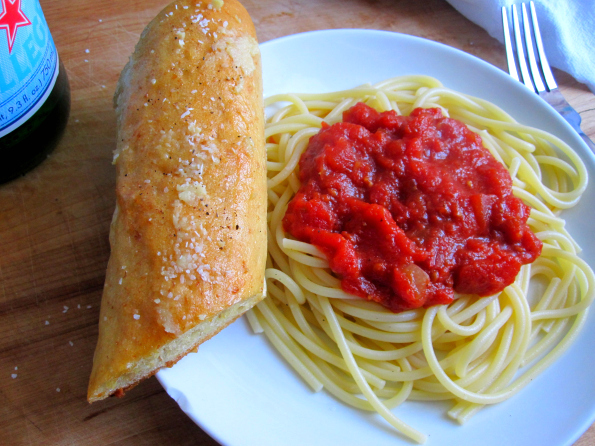 I think there's something way cool about knowing both a poem and a really great, simple recipe by heart. The kind of recipe made of pantry staples so it rarely requires a trip to the grocery store. Where you can make it in about 30 minutes. Where it's good enough for company. This tomato sauce is my by-heart recipe. With it I can name drop brand names and quote al dente times like I grew up in San Marzano Oliveto and invented spaghetti.
It's a bright, tangy sauce. Not over cooked, not deep red. It's more lively than that and when paired with perfectly cooked spaghetti and really great bread you can fool yourself into thinking you're in the kitchen of an Italian family who loves you. And thinks you look too thin. "Eat! Eat!"
This sauce has only seven ingredients and you must be living in a dorm room if you don't already have six on hand.
Salt. Pepper. Sugar. I have those in my purse.
Onion. I haven't been without an onion since 1994.
Garlic and olive oil. Check and check.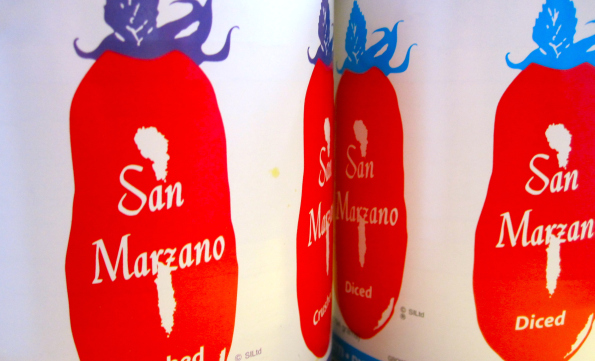 And then the tomatoes – our guest of honor. Spare no expense. And by that I mean San Marzano. The tomatoes are top notch in flavor and color. And the packaging – I'm a sucker for packaging. I love that label. I love looking at the cans of them stacked together in my pantry. Form meets function, pretty outside and perfect inside. Yes, it'll cost you about $5 a can. Yes, you need two cans. But they take center stage in this recipe, it's worth it. I swear on the lives of my imaginary Italian family who thinks I look too thin.
While the sauce is seven ingredients, you need something to put it on so does that make it eight? OK, eight it is then. I know I just talked you into $5/can tomatoes but hear me out — the $6/bag pasta is totally deserving of the $5/can tomatoes. They go hand in hand. Really. They do. (My fav: Rustichella d'Abruzzo)
Serving suggestion: over pasta, with good friends, outdoors, red checkered table cloth, lots of wine, fireflies and Frank Sinatra on your iPod. Dreamy.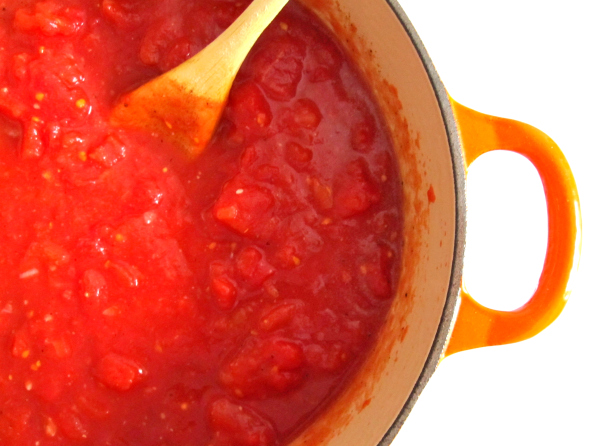 Simplest Marinara
(From Cooking Light.)

Commit to memory:
2 tablespoons (or so) olive oil
1/4 cup onion, finely chopped
4 cloves garlic, crushed
1/2 teaspoon sugar
1/2 teaspoon fresh ground pepper
1/2 teaspoon salt
1 (28-ounce) can diced tomatoes, undrained
1 (28-ounce) can crushed tomatoes, undrained
Preparation:
Warm olive oil on medium low. Add onion, then salt. Stir for about 2 minutes. Add garlic. Stir for another 1-2 minutes. Add tomatoes, both crushed and diced. Then sugar and pepper. Stir. Cover and bring to a simmer for 30 minutes.
Buon appetito!