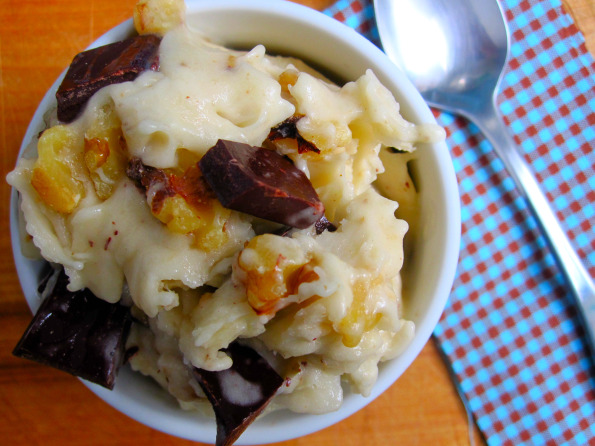 I'm no monkey, but I do like a good banana from time to time.  I remember reading somewhere that the bananas our parents ate were totally different bananas than the ones we eat. Like some terrible banana plague wiped out ALL THE BANANAS of our parent's youth and they have since been replaced with these new bananas. Mad (banana) science!
OH. And do you remember hearing that the banana was going to be extinct in 20 years? I heard that, like, two years ago. Eighteen more years and counting! Apparently we are farming the crap out of the banana and that will lead to its demise. Wait. Do people farm bananas? That sounds crazy, but I guess it makes sense. Sort of. Banana farmer. That's funny. Real funny.
Anyhoooooo, this post is not about the dark world of banana conspiracy. No. It is about one-ingredient banana ice cream and how to make it into a much healthier (and vegan!) version of Ben and Jerry's Chunky Monkey – which we all know is in the Top 5 of best ice cream flavors EVER.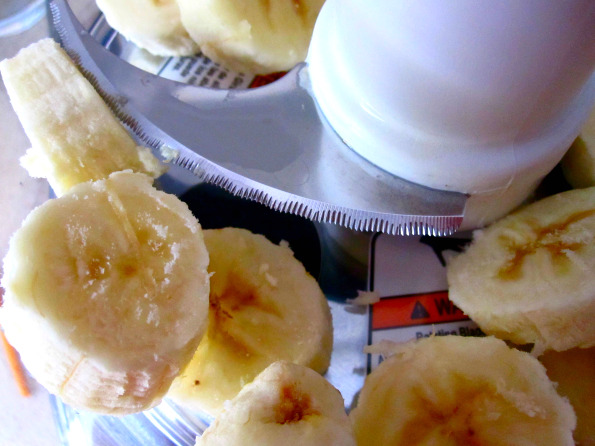 I think this whole one-ingredient ice cream "recipe" took the internet by storm and if you saw it already you probably waited impatiently for your bananas to freeze up so you could try it immediately – or as immediately as freezing banana slices will allow. It totally works. Food processing a frozen banana completely yields a frozen banana whip of sorts that can totally stand in for banana ice cream without complaint from me, or anyone else I know who has given it a whirl. Pun intended. Get it … whirl? Food processor. ANYWAY.
While plain banana ice cream is tasty business, banana ice cream with stuff in it is pure delight. What can you put in banana whip? Literally anything that goes well with bananas. Here are some ideas!
Banana Split: Maraschino cherries, crushed pineapple and top with chocolate sauce and whip cream!
Elvis: Peanut butter swirl!
Banana Pudding: Nilla wafers and top with whip cream!
Tropical Storm: Mango, pineapple and top with toasted coconut!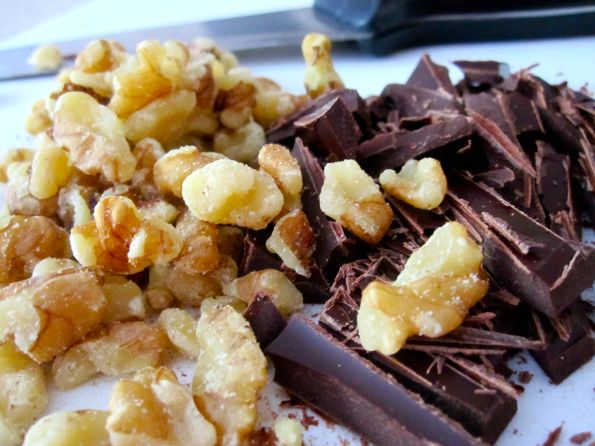 While all these sound tasty (Please leave other ideas in the comments! I'm sure there are tons more!) I opted for Chunky Monkey which meant the addition of walnuts and dark chocolate chunks. Which is how it use to be made but I guess they use fudge with walnuts now? It's been a while since I've brought a pint home. Mainly because I can't stop eating it once it's in my house. But, yeah. Fudge with walnuts folded into banana ice cream. Ben and Jerry, you complete me.
The recipe: It's in long form because it seems silly to write: Ingredients: banana. But there, I just did it anyway. Dagnabbit. Well, yes, you need a banana; sliced and frozen for at least an hour maybe two, until it's completely hard.Place banana in your food processor and press GO. It first looks like tiny diced banana but a few seconds after it looks like a paste. Bingo! That's it!

Put in a mixing bowl and add in your stuff. I used a handful of raw, chopped walnuts and about 2 oz. of really good slivered dark chocolate. Fold in. Put into a serving dish (or two if sharing) and put back into the freezer for about 5 minutes. This firms it up a little and eliminates any melty banana gumminess that might have crept in while you were adding chunks of delicious things.
I tried making a large batch and freezing some for later consumption. That works OK. It gets really hard. But if you think ahead and freeze individual servings, that would make it loads easier. I bet adding rum for a banana foster take (nom nom) would help it freeze a little less solid and be more scooping-friendly.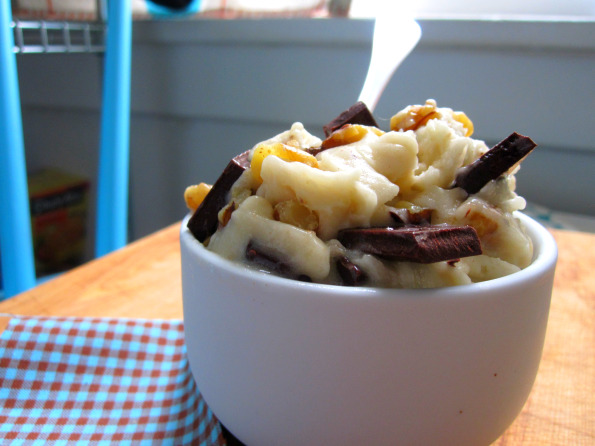 Eat up!