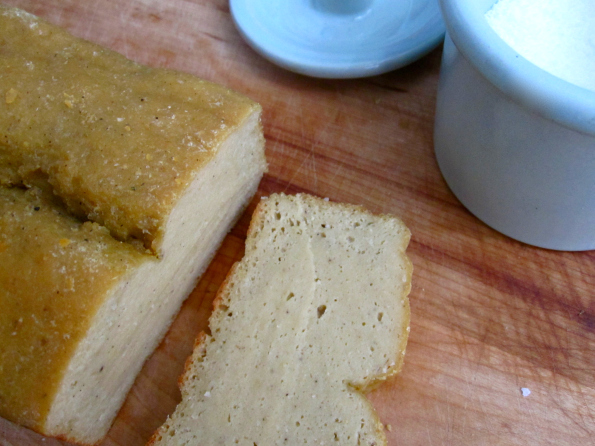 My carnivore boyfriend (boyfriend carnivorus) said that there was no way to get a good photo of seitan and tofu "turkey", a.k.a. loaf. I wasn't so sure. The worst you can say about loaf's looks is that they're bread-like, which sounds a-ok to me. It's also tasty. And with the photographic evidence above, I dare say photogenic. What more could you want in a main course?
I know some meat-eaters are confused by things like this. I can understand that. Why stop eating turkey just to go through all the trouble of creating a fake one? Protein, for one. Just because you give up meat doesn't mean you don't want that hearty, dense, toothy feel of protein. It helps you feel satisfied and keeps hunger at bay long after the dishes are done. I also think it's comfort. I want to make the recipes I loved as a kid. Ninety percent of my favorite pot pie recipe is naturally vegetarian. Swapping in a little diced loaf for the turkey doesn't seem all that different than subbing mushrooms for lima beans.

You can think of this like a Tofurky clone, except it's not $13 and filled with questionable stuffing. I make this each Thanksgiving and about a half dozen other times during the year. I find it incredibly versatile, easy to make and easy to use. Sandwiches? Check. Soup? Holds up great. On its own with mashed sweet potatoes? Yes, please. (I'll post my pot pie and noodle soup recipes here soon – both star diced loaf. You'll love 'em.)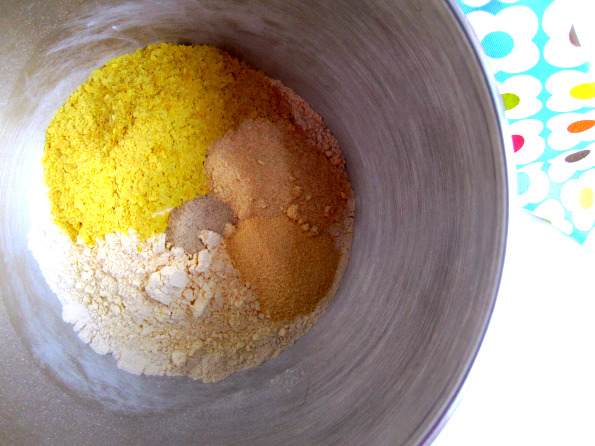 The original recipe for this comes from Bryanna's vegan Thanksgiving site — she has lots of great side dishes and different variations on her basic tofu and seitan recipe. I took the "turkey" one and modified it quite a bit in both ingredients and cooking method to make it a little easier to whip up and with the flavor coming more from broth and herbs than soy sauce.
It's a pretty simple prep. Blend together some tofu and broth. Add it to some wheat gluten. Mix. Bake. I was totally intimidated the first time I made it. Bryanna's instructions are super detailed and I can be kind of bad with details (which is why I wound up simplifying this recipe a whole lot) but it turned out great and each one after that has as well. This recipe is forgiving and pretty much fool-proof. Not that you need that, because clearly, you ain't no fool.

Seitan and Tofu "Turkey"
(adapted from Bryanna's Seitan Turkey — although she seems to have taken the recipe down for a site revamp)
Dry Mix
2 c. vital wheat gluten
1/2 c. garbanzo bean flour
1/2 c. nutritional yeast flakes
2 tablespoons granulated onion
1 tablespoon powdered garlic
1/2 teaspoon white pepper
Wet Mix
1 package firm or extra firm tofu (15 oz), drained and crumbled
1 1/2 c. water
2 tablespoons Better Than Bouillon "No Chicken" soup base
1 tablespoon olive oil
1 tablespoon poultry seasoning
(If using canned broth, simmer until reduced at least 25%-50% and use in place of the water. Let cool before using as it could start to cook the gluten prematurely if hot.)
Basting Broth
1 cup water
2 teaspoons Better Than Bouillon "No Chicken" soup base
1 tablespoon olive oil
2 cloves garlic, crushed
1 teaspoon poultry seasoning
(If using canned broth, use in place of the water and skip the bouillon.)
Prep:
Preheat oven to 350º.
Mix all the dry ingredients in work bowl of Kitchen Aid (or other mixer) or mixing bowl. Give it a quick whisk to incorporate.
Combine all the wet ingredients in blender. Blend for 30 seconds or until completely smooth. You want the tofu to be fully broken down. It should look like a smoothie.
Pour the wet ingredients into the dry and mix together. Dough will be wet. Turn out onto a cutting board and knead for about 5 minutes. Shape into loaf, put in oiled bread pan and let stand for another 5 minutes.
Make basting broth by combining all ingredients. Use hot water or warm slightly on stove.
When dough is finished resting, baste with one or two baster squeezes of broth. Put in oven.
Baste again at :30 minutes. (You'll have broth left over.)
Bake 1 hour. Dough will feel firm to the touch and nicely browned. Broth should be completely absorbed. Let cool for :15 minutes before serving.
Freezes great!