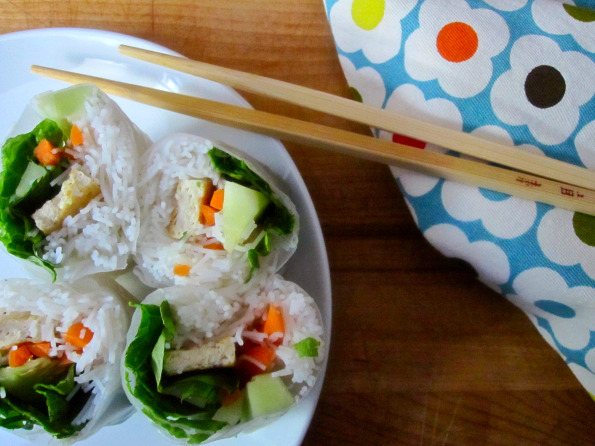 Fresh rolls are my favorite. Ex-debate club kids would maybe try to argue that no, it's really peanut sauce that's my favorite. The two *do* seem to go hand in hand. But let them argue. I'd rather spend my time nomming these tasty rolls.
Truly love at first bite many many moons ago, fresh rolls didn't make an appearance in my kitchen for far too long. They intimidated me. Look at them! Scary, right? Rice paper? It looks tricky! It looks delicate! I don't usually do so well when tricky and delicate combine. So I avoided. I got take out. I made do. Until! Until one fateful day with a cold, cable TV and Ming Tsai.
With a box of Puffs at my side, I caught Ming's East Meets West demystifying fresh rolls, step by step, with many words of encouragement along the way. It was like he made that episode just for me (minus the shrimp or whatever he was sticking in there.) The basics of rice paper were embarrassingly easy. And his best tip – use a flour sack dishtowel as your base for assembly. It absorbs just enough of the water and makes the rice paper sticky instead of damp. Which is BRILLIANT. Seriously, thanks Ming.
Here are my step by step photos for assembly, texty encouragement to follow: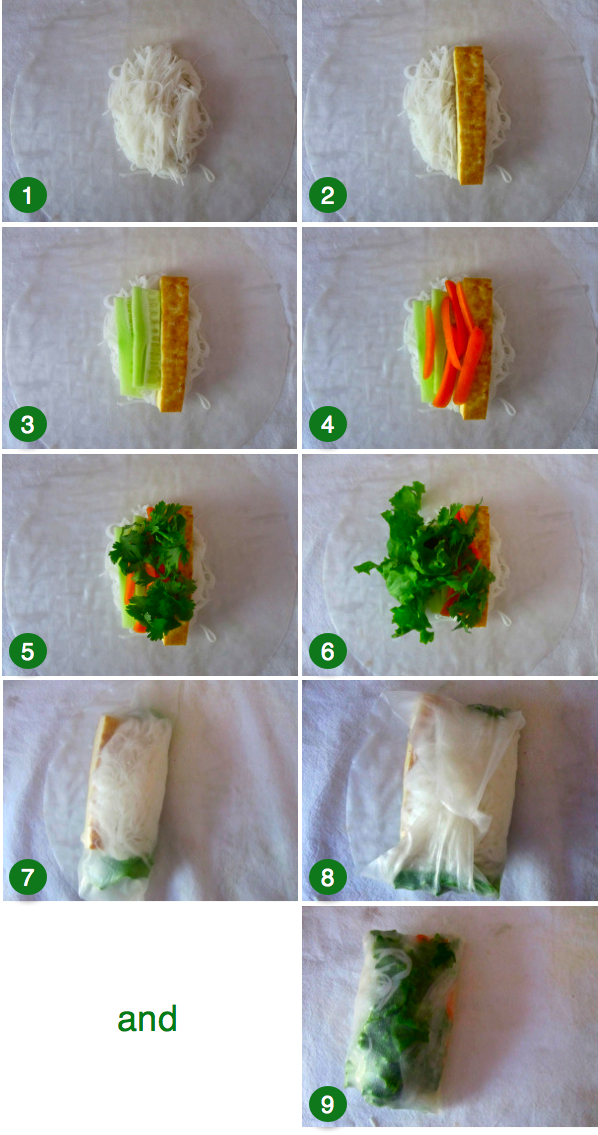 My tips!
Yes to the dish towel thing for sure. It's a must. It makes the rice paper sticky which it key to, you know, it sticking together.
The amount of filling needs to be on the dainty side. Error on too small, you can always eat two. Or four.
If your rice paper blows a hole you can wrap your ailing fresh roll in another piece of rice paper. It'll have a double outter but will still be delicious.
When cutting up your cucumber and tofu, make note of how many rice papers you have. Not that left over tofu or cucumber is a bad thing, but it can be sad if you have left over rice paper and are out of filling!
I soften the rice paper in a chef's pan on low heat, barely a simmer. I'm a glutton for punishment so I use my hands to slide the paper in and fish it out. Hands really do work best, so see if the hottest water you can stand is enough to soften the rice paper. Tongs are too rough and you risk tears.
Even ugly fresh rolls are tasty. Even ugly fresh rolls you have to eat with a fork are tasty. Don't worry, you really can't go wrong. Especially if you have a great peanut sauce. My favorite is this one.
But if you want to make one, here are some recipes that get high marks:
Thai-style Peanut Sauce
Chunky Peanut Sauce
Whole Food's Recipe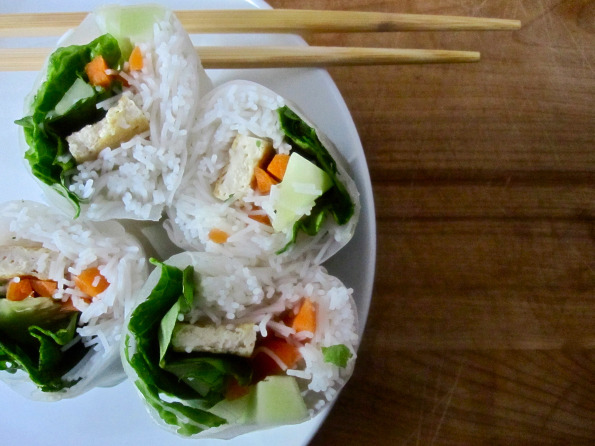 Vegetable and Tofu Fresh Rolls
(makes 12 fresh rolls)
Ingredients
Rice paper
1/2 package rice noodles
1 small cucumber, cut into 12 spears
1 c. carrots, matchsticked
1 block tofu, sliced into 12 spears and pan fried or fresh (you pick!)
12 sprigs of fresh basil or cilantro
12 torn lettuce leaves
Your favorite peanut sauce for dipping
Assembly
Soften the rice paper, one sheet at a time in a shallow pan of hot water. When the basket-weave of the paper starts to fade, remove from water and place on a clean flour sack dish towel. Flatten out the paper to form a circle.
Starting with rice noodles, then aligning your tofu and veggies, assemble your fresh roll using the photos above.
This part is like folding a burrito! Fold the paper over the filling, right to left, as seen in picture 7. Fold top and bottom ends towards the middle (photo 8) and then roll the fresh roll again to the left sealing it with the remaining bit of paper (photo 9).
Presto! You made a fresh roll!
Repeat 11 more times, you can use the same dish towel. (I just keep moving it around when it starts to feel too damp.)
Happy fresh rolling!