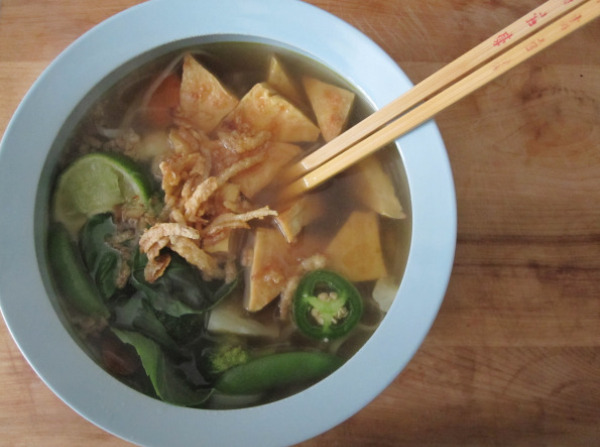 It's July 5th and yesterday was 60 degrees and rainy. My heat kicked in. Seattle Summer 2010 is off to a precarious start. Usually, turning on the oven or stove is low on the list of good ways to spend a July day but this year making soup seemed the perfect antidote to the drizzle. And what better soup than pho? Light, vegetable-plentiful, and with as many noodles as you need to feel better about the fact that you considered wearing mittens on your morning walk. Not that I wore them, mind you. I just wished I did.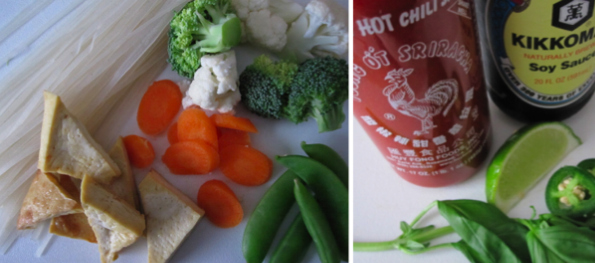 Being from the Midwest, the Starbucks-like abundance of pho and teriyaki restaurants in Seattle was a welcomed surprise. You can't throw a limp rice noodle in this town without it sticking to the window of a Yummy Teriyaki or I Heart Pho. And these folks aren't afraid of the tofu. Vegetarian dishes are more thought-out than just meaty offerings sans meat — how nice is that?!
My favorite of all pho places is, luckily, in my neighborhood and their vegetarian pho is a work of art. While I can walk there in about 12 minutes and making my own takes about 45, it really makes no sense that I put in the effort. There's a cook's compulsion to recreate though, isn't there? Maybe tweak ever so slightly? Use organic everything? I fall victim to that compulsion on a regular basis. And by victim I mean I sometimes spend a lot on groceries.
That said, this is worth the 45 minutes (tops) it takes to prepare. It makes 4 generous servings so you can impress three friends once or one friend twice with this soup. It's filling but doesn't weigh you down and dessert can be cream puffs. People will love you.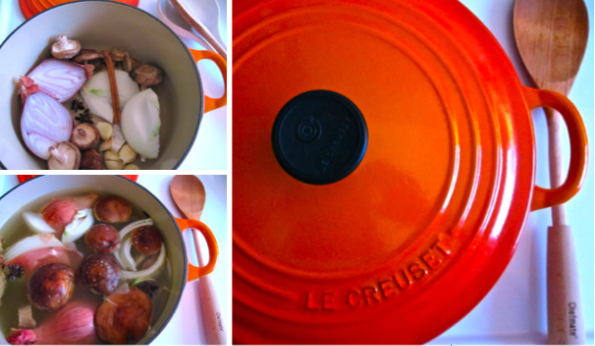 Vegetarian Pho
(modified from Elliemay.com)
The Broth:
1 small unpeeled onion or one half of a large one, quartered
1 unpeeled shallot, halved
4-6 garlic cloves, peeled and smashed a wee bit
a 1 inch piece of ginger, sliced
4-6 shiitake mushrooms, whole
1 cinnamon stick
2 star anise pods
2 whole cloves
8 cups of vegetable broth (I've used Swansons, Rapunzel cubes, Better Than Boullion … all work great)
Super easy! Put onion, shallot, garlic, ginger, cinnamon stick, anise and cloves in a soup pot, pour 8 cups of broth over and heat to a boil. Turn down heat and simmer for 30 minutes. When done, pour through a strainer and discard or compost the spent vegetables. You'll want to taste test at this point. It might need more brothy flavor which can be just an extra teaspoon of Better Than Boullion or a quarter of a boullion cube. Keep futzing until it's perfect.
The Soup:
Pho is flexible! Put in what you love. Keep your vegetables crunchy by adding to boiling broth just a minute or two before serving.
Rice noodles (I use the wider ones, cook according to package directions)
Fresh or fried tofu
Broccoli fleurettes
Cauliflower fleurettes
Mushrooms
Kale
Pea pods, whole
Carrots, sliced
The Toppings:
Bean sprouts
Squeeze of fresh lime
Jalapeno slices
Basil or cilantro
Green onions, thinly sliced
French fried onions
Sriracha
Soy sauce
Hosin sauce
Assembly:
Put cooked rice noodles in serving bowl and ladle on broth, vegetables (suggested veggies are broccoli, cauliflower, carrots and pea pods and, sometimes, mushrooms) and fresh or fried tofu. Top with fresh basil, sliced jalapenos, a smattering of french fried onions and a squeeze of lime. You almost won't care you're wearing a cardigan. In July.