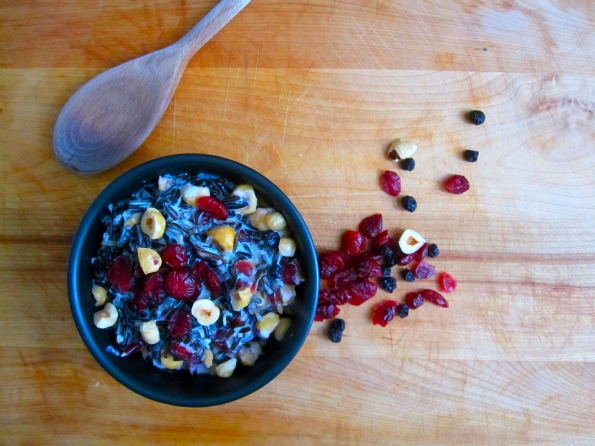 Show me something I can put maple syrup on and I'll show you me abusing that option. While I stop short of spaghetti, I seek out foods where it is appropriate. Yogurt. Ice cream topping. Cereal. And this: porridge!
Wild rice porridge can be a welcomed addition to your Thanksgiving spread. It is crock-pot friendly (score!), it's unusual without being wacky (score!) and it's full of warm fall flavors (triple score!) If you need more reason to be excited, it's also highly adaptable to your favorite fruits, nuts and seeds as well as amenable to adding spices like cinnamon or nutmeg. How about a splash of vanilla? Or maybe bourbon. That'll settle the kids down.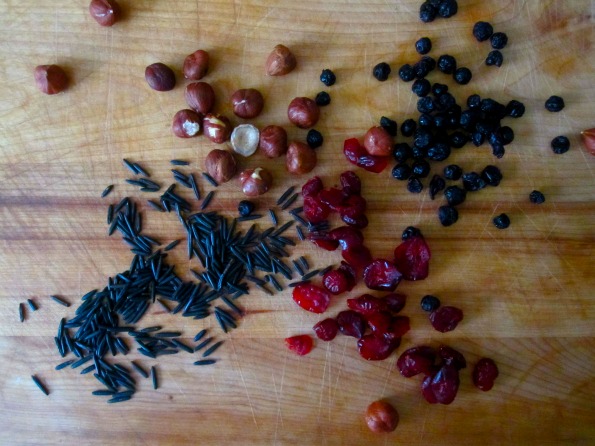 Cooking the wild rice can be done days ahead (even more if you freeze it) and it can be brought to a simmer with the rest of the ingredients on the stove top or in a crock pot on the big day. Here are some ideas for other fruit and nut (or seed) combinations:
Dried apple, craisins, and walnuts
Dried peaches, craisins, and pecans
Dried raspberries, craisins, dried blueberries and pecans
Using one of Trader Joe's ready made trail mixes for your fruits and nuts
Substituting pepitas or other toasted seeds in place of nuts for those who are allergic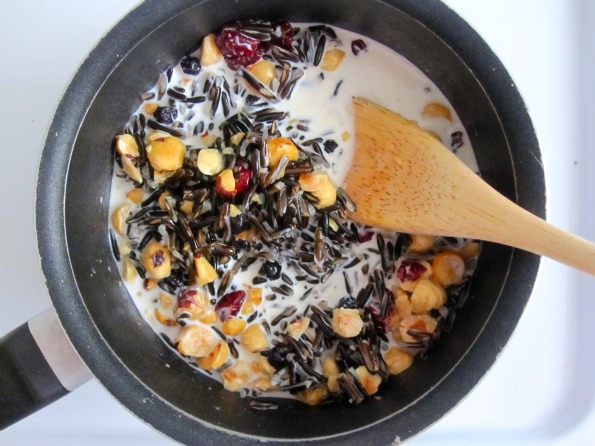 I love using maple syrup for the sweetener but sweet spices like cinnamon or other sweeteners like brown sugar would be just as great. You really can't go wrong. And if it wasn't versatile enough already it also tastes good cold. Really, what more could you want out of a side dish?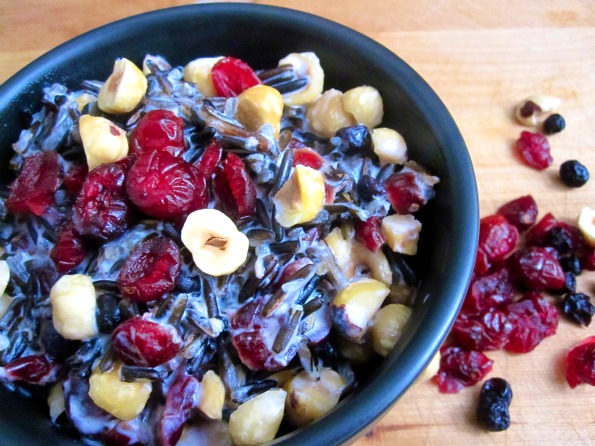 Happy Thanksgiving, kids! I hope your holiday is filled with love and deliciousness. XOXO.
Wild Rice Porridge
(ever so slightly adapted from Hell's Kitchen)
Ingredients:
4  cups  cooked wild rice (takes about 55 minutes)
1/4 cup pure maple syrup
1/4 cup dried blueberries
1/4 cup craisins
1/2 cup roasted cracked hazelnuts (takes about 20 minutes)
1 cup half and half
Prep:
Cook the wild rice according to package instructions. This can be done days ahead.
Preheat oven to 275 and roast hazelnuts in a single layer on a lined cookie sheet for 20 minuets. When done, roll nuts in a dishtowel to remove skins. Coarsely chop.

When ready to make, combine rice, syrup and half and half in a heavy bottomed pan. Bring to a simmer slowly over med-low heat. When simmering add fruit and nuts. Bring back to a simmer. Simmer for another 5 minutes, stirring. The half and half will thicken in this time.
Serve warm with additional syrup and cream for garnish. A sprinkling of additional dried fruits and nuts is pretty also. Enjoy!