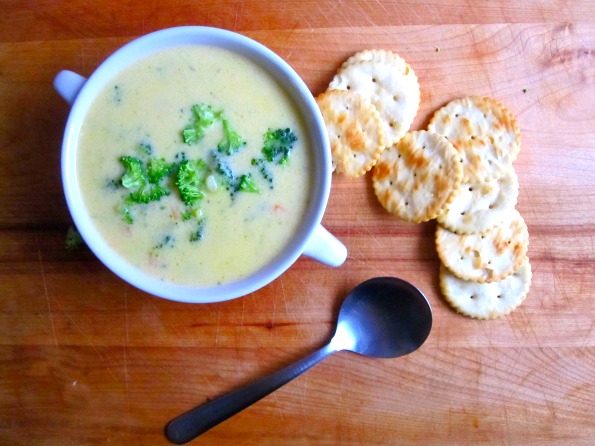 Driving home from a weekend away, we wondered why it was getting so dark. Sure, it was raining. Sure, there were overcast skies. But the real reason was because it was 4pm and the sun was starting to set. Welcome to Fall. It's time to make soup.
Continuing on the theme of butter becoming my signature scent, I thought I'd whip up a broccoli-cheddar soup that would be a little but sunny (because cheddar is orange!) and a whole lot comforting because that is what creamy soups do best.
According to my nutritionist, broccoli is the #2 superfood second to kale. I don't much care for kale although I have discovered that covered in expensive cheese, it's quite alright. Broccoli though, I can eat that plain; by the fistful even. While it's no number one, I make up for it in volume. It would be appropriate to note that I do realize I'm mentioning how I eat broccoli plain in a recipe for it covered in cheese but hear me out, it's not expensive cheese. It's regular cheese. Take that, Kale.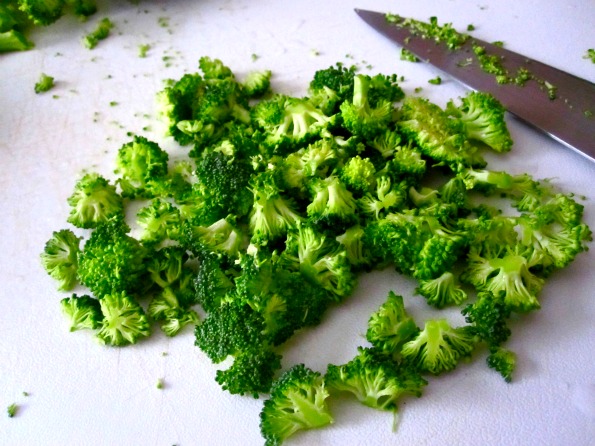 This soup is about 45 minutes start to finish, although I think you could shave some time off the last simmer if you were getting hungry. You could shave off even more time if, like me, you opted to not puree it. I finely diced the vegetables and sort of enjoyed the pretty bits and pieces of carrot and broccoli floating around in the creamy soup. Even after two bowls, it's a decision I do not regret, but puree if you must. It's between you and your immersion blender.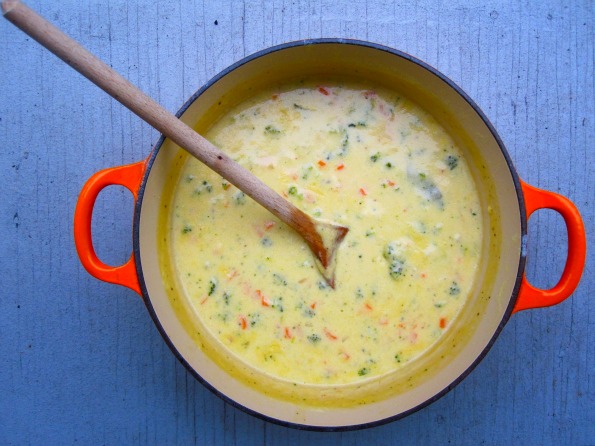 Broccoli Cheddar Soup
(adapted ever so slightly from the Food Network Kitchens)
6 tablespoons unsalted butter
1 small onion or half of a large onion, minced
1/4 cup all-purpose flour
2 cups half-and-half
3 cups low-sodium light colored vegetable broth
2 bay leaves
1/4 teaspoon freshly grated nutmeg
3 cups broccoli florets, finely chopped
1 cup diced carrot, finely chopped
2 1/2 cups (about 8 ounces) grated sharp cheddar cheese
salt and pepper to taste
In 3 quart heavy bottomed sauce pan, melt butter. Add onion and saute for about 5 minutes until translucent.
Whisk in flour and cook 2-3 minutes more until just starting to brown.
Add in half-and-half, whisk to incorporate. No lumps!
Add broth. Stir. Add nutmeg, bay leaves and a pinch or two of pepper. If your broth is salty, you might not need salt. If not, taste and add if necessary. Remember the cheese will up the saltiness, too. Let simmer for 20 minutes.
Add broccoli and carrot and return to a simmer. Let simmer for an additional 15 minutes.
Take off heat and puree if you'd like. Once smooth or if you are keeping it chunky, now is the time to stir in the cheese. When melted into the soup, it's ready to serve.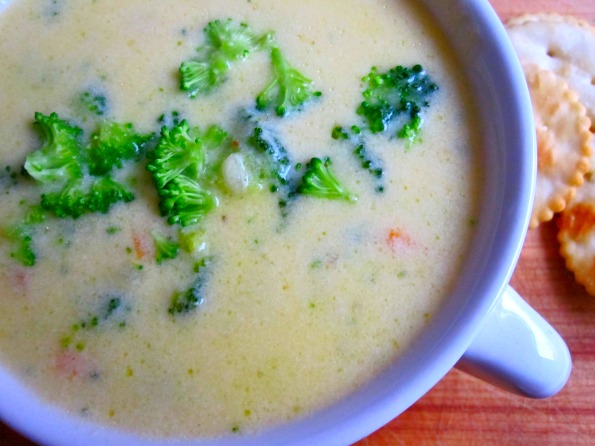 Enjoy!