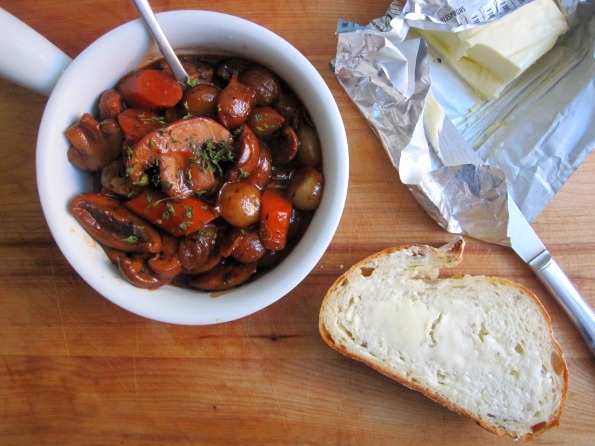 I could have called this post Why-Julia-Child-Would-Have-Good-Reason-To-Hate-Me Bourguignon but that's nowhere near as catchy as Champignon Bourguignon. Please, say it out loud, or at least enthusiastically in your head, with your best/worst French accent: Champignon Bourguignon. Champignon Bourguignon. It's especially fun when said with disgust, which I would guess is how most French people would say it. Champignon! Bourguignon! Non!
Let me detail out why Julia would tsk:
I used frozen pearl onions. FROZEN!
There is no beef!
I lessened the amount of wine and it was not with the intent of leaving more for me to drink. French chef fail!
This whole thing takes about an hour, not the epic 6 hours of the original.
I crowded the mushrooms. I crowded them real bad.
I repeated "champignon bourguignon" in my head in an absolutely terrible French accent the entire time I was making it.
I used dried herbs!
This could be an "easy weeknight meal" — WHAT? A bourguignon? NON!
I kinda doubted her use of tomato paste (which I shouldn't have)
I don't even OWN a string of pearls.
But before we get too discouraged, Julia would have one reason to like me a whole bunch: I'm pretty liberal with the butter.

I whipped this up with :30 minutes of stove top time and finished it off with :30 minutes in the oven and it was great. Incredibly delicious and rich. The red wine, butter and thyme are amazing together. I served it with a slice of rustic potato bread (that was shaped like a bunny!) but other popular ways to serve it are with boiled or mashed potato, buttered noodles, crusty baguette or even rice. Rice? I must note that seems like a terrible idea. Too tiny. Too something else. Alas, some people adore it, so there you go.
I would recommend taking a peek at the original recipe if you embark on this one — mostly just to compare your adaptation to mine. You might want more wine, or less onions, or more herbs. I think it's fairly flexible and adaptable to your tastes (Would that be a reason #11 for Julia? Maybe.)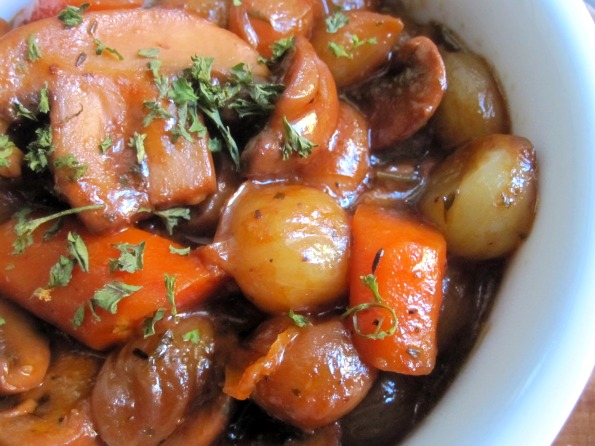 Champignon Bourguinon
(lovingly mangled from Julia Child)
Ingredients:
1 package frozen pearl/petite onions
1 pound crimini mushrooms, generously sliced
3 medium sized carrots, generously sliced
1/2 stick butter, unsalted
2 teaspoons dark vegetable stock concentrate (Better Than Bouillon or, in fact, bouillon cubes)
1/2 cup red table wine
1/2 teaspoon fresh ground pepper
1 teaspoon dried thyme
2 teaspoons dried parsley
3 cloves of garlic, minced
1 tablespoon tomato paste
1 bay leaf
1 tablespoon flour, for a roux if needed
1 cup water
Prep:
Preheat oven to 350º.
In an ovenproof and stove top friendly casserole, melt butter over medium heat. When melted, add frozen onions. Cook over medium heat until browning, about 10-12 minutes. Butter will also brown, this is ok.
Add generously sliced mushrooms to onions. I cut jumbo mushrooms in thirds and halved regular sized ones. Stir to coat. Saute 5-7 minutes, until brown.
Add carrot. Then add ground pepper, herbs and garlic. Stir and saute another 2-3 minutes.
Add wine, bay leaf and stock concentrate (If using bouillon cubes, dissolve in a cup of boiling water to be double strength and add at the point of adding the water – which is not right now but soon!) Let wine come to a simmer.
Once wine is simmering add 1 cup water (or here is where you add your dissolved bouillon if using cubes). Let come to a simmer again. Add tomato paste. Stir to combine and bring to a simmer again.
Let simmer for 5 minutes. In this time put 1 tablespoon flour in a bowl and add broth from pan to make a roux. Return roux to pan to thicken. Incorporate.
Taste. What do you think? Depending on your bouillon, it may need salt. Add a pinch if necessary.
Place a sprig of fresh or dried time on top of bourguignon and cover pan. Put in pre-heated oven for :30 minutes. Serve immediately!
Vegan notes: I would sub olive oil for the butter but add 2 T of Earth Balance at the end of the stove top cook to give it some buttery richness. For those of you with more Earth Balance experience than I have, if it browns and doesn't smoke after a lenghty saute then I think it would be ok to sub that for the butter. I'm suggesting olive oil only because I've never tested the Earth Balance limits.