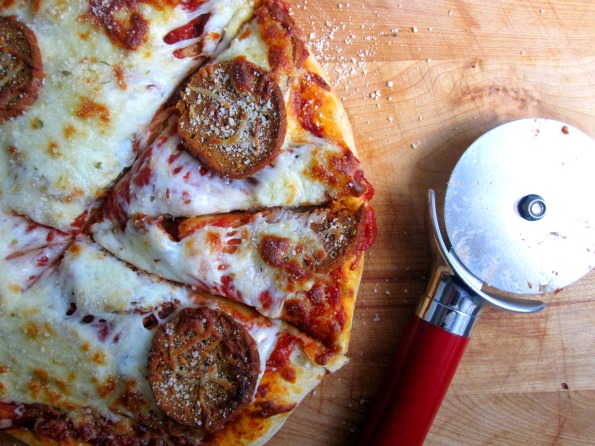 My friend Jason and I use to play this game where we would think through absurd scenarios of what-ifs. Like what if metal expanded when it froze instead of contracted? What if lakes froze from the bottom up? Or my favorite, what if pineapple pizza was the everyday pizza and pepperoni was something you got when you were feeling wacky? We took these questions very seriously.
Let me post this question to *you* — what if fake pepperoni was the new pineapple in the pepperoni pizza question above? Did I just blow your mind?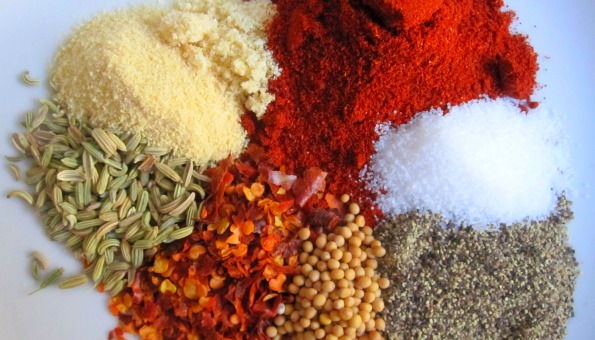 I am a fan of the fake meats. In fact, fake is my favorite flavor of meat. I think I adore it because it makes recipe adaption wickedly easy and adds a little protein and substance that wouldn't be there without it. I try to limit the commercial stuff to mainly Field Roast, having gotten tired of the rest of it and just being suspicious of all the processing that happens to turn a soybean into a bacon strip.
Thankfully making your own isn't that hard! The first few times felt more like science than cooking, but I think that was just because I didn't know what I was doing or what to expect. It's gotten easier and more fun as I've gotten better at it. A mix of wheat gluten and/or tofu and some seasonings can produce amazing results.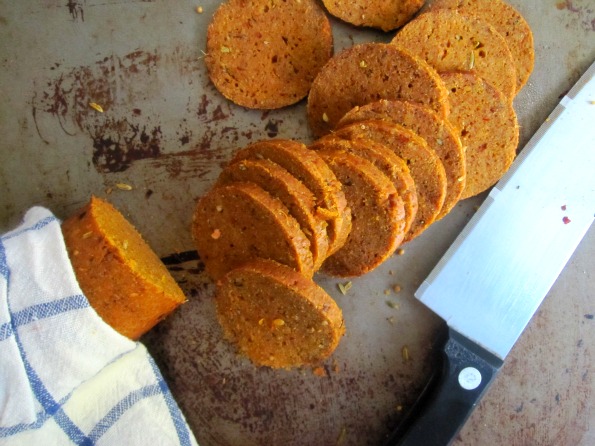 This pepperoni is no exception. It's spicy and just as tasty on a pizza as on a cracker. It produces a good sized tube that will last for a number of pepperoni applications and freezes well, too. I don't think it will fool anyone — it's not the Taster's Choice of pepperonis — but for the vegans and vegetarians out there I think it will be a big hit.
Vegan Pepperoni
(slightly adapted from Fat Free Vegan Kitchen)
Dry Ingredients:
1 1/4 cup vital wheat gluten
1/4 cup nutritional yeast
2-3 teaspoons Spanish paprika, smoked if you can find it
1 teaspoon black pepper
1 teaspoon red pepper flakes
3/4 teaspoons mustard seeds
1 teaspoon fennel seeds
1/2 teaspoon garlic powder
1/4 teaspoon onion powder
Wet Ingredients:
2 tablespoons tahini
2/3 cup water
4 tablespoons ketchup
1 teaspoon Liquid Smoke
Preheat oven to 325º.
Combine dry ingredients in a medium sized bowl, whisk together.
Combine wet ingredients in a small bowl and whisk until smooth.
Pour wet into dry and stir to combine. Will be crumbly, not entirely damp.

Gather together and knead for a few minutes on a cutting board until all the dry pieces are incorporated.
Roll into a tube shape that is about a foot long or so. It doesn't have to be even, it will puff up and even out in the oven. Roll tube in tin foil and twist the ends.

Put tube on a cookie sheet and place in oven for 1 hour and 15 minutes. Turn tube over at the 45 minute mark.
When done, unwrap and slice. It will slice pretty thin if you have a good knife.
Now go make pizza!