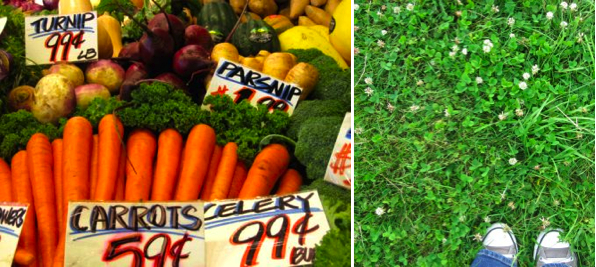 Hello!
I've often wondered how many of you, dear readers, are also bloggers or vegetarians or sent from links looking for a specific recipe and never to return. Unfortunately, WordPress stats don't tell me those things. What they do tell me is that October is my best traffic month ever and well, that makes sense, because getting better is what blog traffic tends to do — well, at least when you're posting!
When I'm not in the kitchen, I'm a digital marketing and sales consultant who is a total website analytic junkie. I believe in open stats and information sharing. I believe in measuring a site's relevance by more than just page views. How long did someone stay? How many users came in from an e-mail a friend sent them? Who links here? It's more complicated than just unique users and page views. It's about happiness, relevance and building a community.
I'm going to assume that many of you are bloggers too and that maybe, like me, you're operating in a bit of a vacuum on how exactly food based blogs grow. If not, no worries, tomorrow's post is in the oven.
The fun facts:
– Whisk Flip Stir is 4 months old.
– I've posted 33 recipes in that time.
– Month by month page views:
July: 737
August: 3,064
September: 5,588
October: 9,300  (estimate since it's only 1pm!)
– WordPress stats don't count unique users. Weird, huh?
– I've had 252 total comments on the blog, with 126 probably coming from me since I try to answer each and every comment.
– According to Google, there are 264 incoming links to different recipes across the site.
– My search driven traffic is all over the place, most popular is "Whisk Flip Stir", no surprise there really. Weirdest is "Recipe for once stuffed potatoes." Isn't that just a potato?
– I've made TasteSpotting 17 times.
– Tastespotting drives about 90% of all my traffic. I don't post to other photo sites, mainly because I find the duplication amongst them to be kind of annoying and don't want to make it worse!
– Biggest traffic day was October 4 — I made Tastespotting twice that day (General Tso Tofu and Black Bean Bowl)– total views were 925.
Summary:
I'm really happy with everything so far. I started this as a creative outlet; one that I thought would help me pay better attention to what I was cooking and encourage me to eat more intuitively and mindfully. I think it is paying off in all those areas.
The comments are my most meaningful stat. It is validating to be reminded that I am not writing into a void but instead there are real people reading my posts and in many cases making the same recipes I tested in my kitchen. I love that. It feels very small world to me.
The only ads that appear here are WordPress related. You have to pay to have them shut off and I didn't think they were distracting enough to warrant the $13. I don't plan on adding ads to my blog because it's not about that, really. I have other things I do to make money and not everything I do needs to. Such as this. Or holding hands. Or going for walks. It's nice to just do stuff for fun.
I hope this was insightful — I'd love to hear your experiences with traffic and blogs. Why do you do it? Are you happy with how it's going?
Oh! Tomorrow's post needs to be taken out of the oven. Perfect timing!
Cheers,
Heather