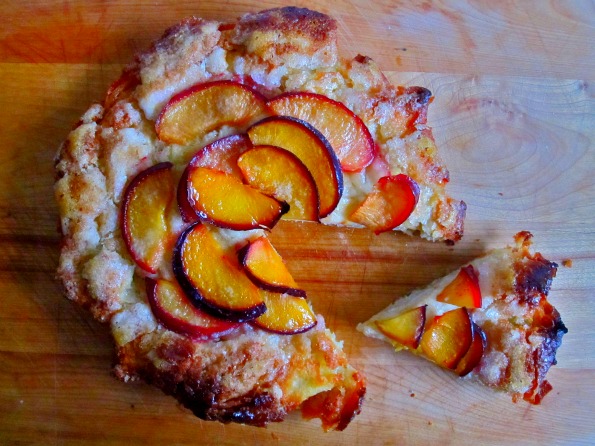 I have wanted to make this cake for years and years but I didn't know which cake was Amelie's. The only thing I was certain of were two ingredients: yeast and plums. I fooled myself by baking a dimply plum cake from time to time. Ignoring there was no yeast in it, figuring the plums were close enough. A cake of lies it was, delicious lies, but lies nonetheless.
Then I thought maybe it's a kuchen. I know, I know, that's a German cake. But they have Chinese restaurants in France so maybe they bake German cakes, too. It could happen and as it were, plum is a popular type of kuchen. That just had to be it. I was going to bake it.
One last Google search, I thought.
Lo and behold, on a post for a dimply plum cake where the misguided blogger said it was Amelie's Famous Plum Cake was a note in the comments. "It's not that cake, it's this one." The "one" being a link to a tiny Wikipedia page about a French cake called kouign amann, pronounced queen ah-mah. Translated to butter cake.
Listen very closely at 0:29. You'll hear prune queen ahmah. He says it very quickly!
Mystery solved.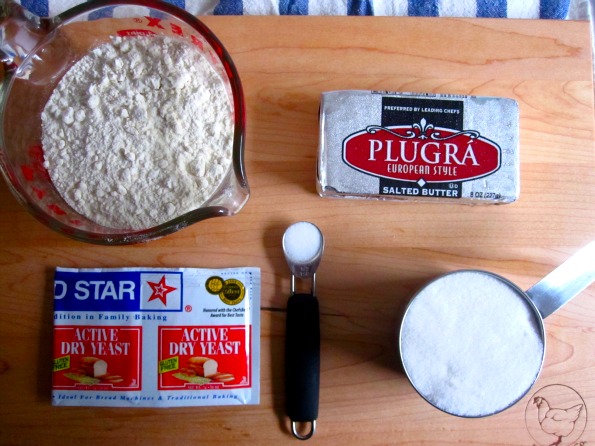 This is straight-up, legit French baking here, kids. If it wasn't for my absolute fondness for Le Fabuleux Destin d'Amélie Poulain, I don't think I would have bought the fancy butter, much less the new yeast. But I loved that movie. I loved how French it was. I loved how sweet she was. I loved the gnome. I wanted to bake the cake.
Enter David Lebovitz. A pastry chef living in France, having spent many years at Chez Panisse in San Francisco and authoring numerous cookbooks. He has a blog where he shares what he knows freely. I love that. Thank you, David. It's his recipe and advice that gave me the hope that maybe, just maybe, I could pull this off.
Kouign Amann
(a lovely recipe from David Lebovitz)
Ingredients:

1 tablespoon yeast, not rapid rise
¾ cup warm water
2 cups all-purpose flour
½ teaspoon salt
1 cup sugar, which will be used in 1/4 cup incriments
(Plus an additional bit of sugar for yeast feeding and dough rolling)
1 stick salted butter cut into inch square pieces,chilled
2-3 tablespoons additional salted butter, melted
The step-by-step:
1. Dissolve the yeast in the warm water. Feed it a pinch of sugar. Let develop for 10 minutes. It should bloom like below otherwise you need new yeast.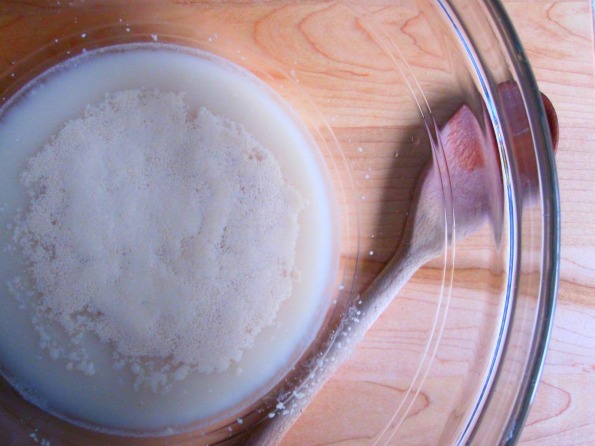 2. When yeast is ready add flour and salt.

3. Time to knead! Gather up all the flaky dough pieces into a rough ball and place on lightly floured surface. Knead for 3 minutes until dough becomes smooth and elastic.

4. The dough needs a break. Let rest/rise in a medium sized buttered bowl for 1 hour, covered, in a warm spot.

5. Ready to roll! Place risen dough ball on a lightly floured surface and roll into a rectangle about 18 inches long and a foot tall. It should be pretty easy to do, maybe a little sticky. Don't over roll, if yours winds up kinda oblong or a weird shape don't keep trying to fix it. Overworking the dough could make it tough. Go with what you get.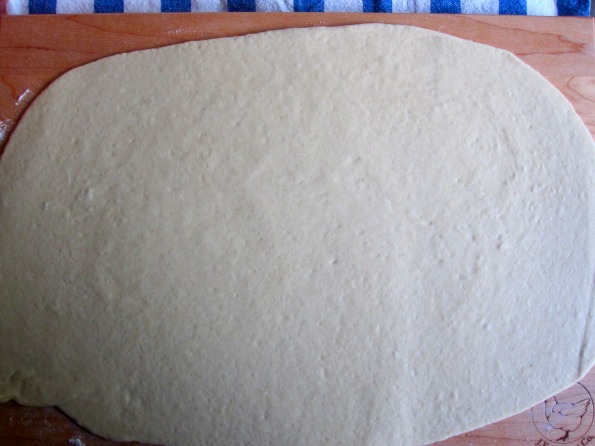 6. Here comes the butter and sugar! Line up one half of the butter and a quarter cup of the sugar in the middle of your dough.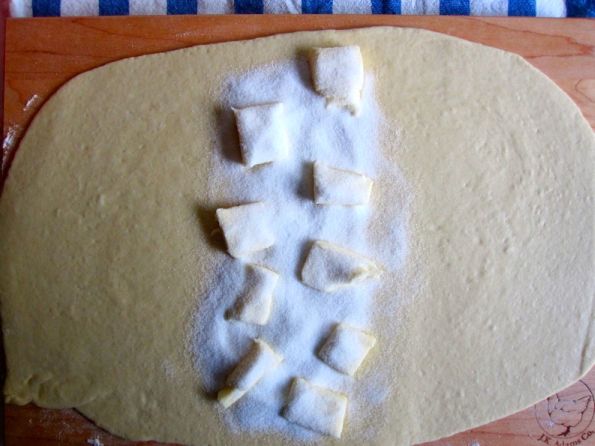 7. Fold the right side over the middle and then the left side. This will be easiest if you have a pastry scraper. If not, a chef's knife could help separate the dough from your surface.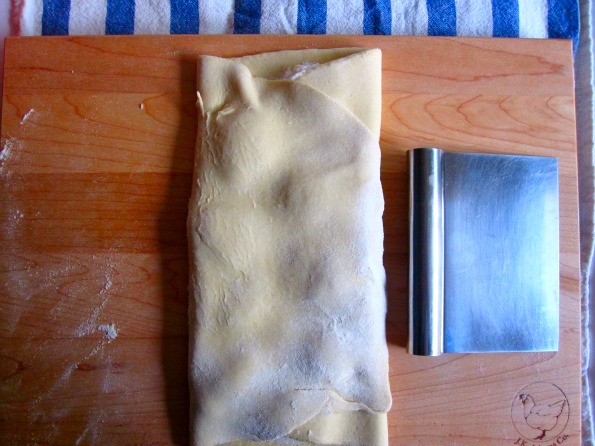 8. More butter and sugar! Take your remaining butter and dimple the top of the folded dough. You'll see bumps where the original layer of butter is, put this layer's butter around those for best butter distribution. Top with 1/4 cup of sugar.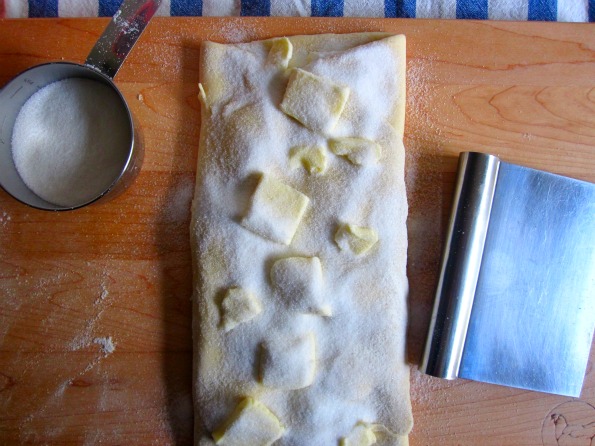 9. Now fold up the bottom and fold down the top into a square.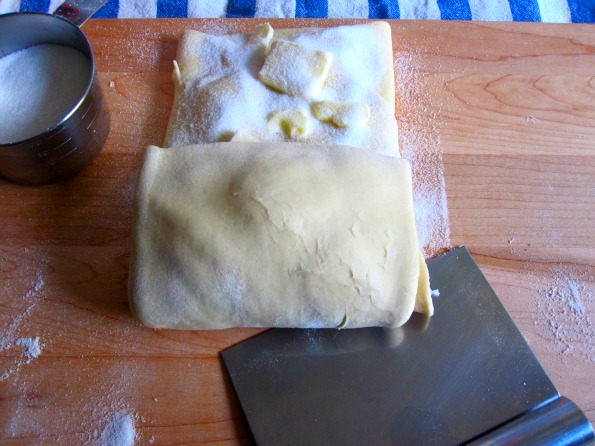 10. A side view of the square. So foldy!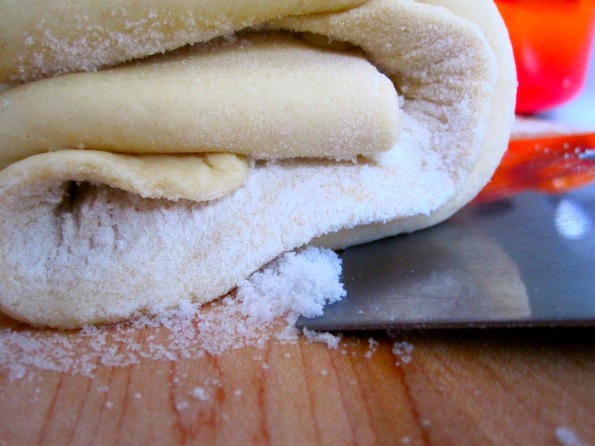 11. Wrap the folded square in plastic wrap and put on a plate. Let rest in the refrigerator for one hour.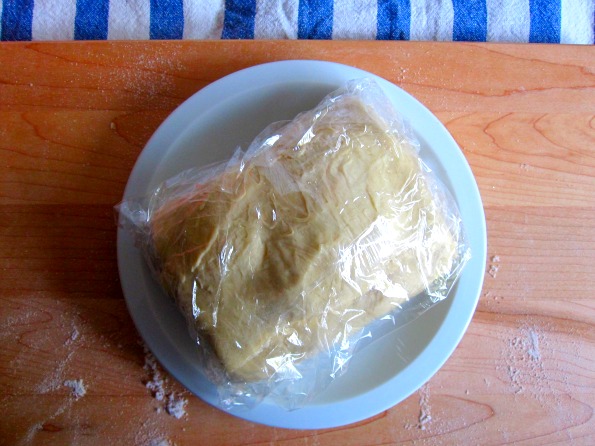 12. After an hour, take the dough from the refrigerator, unwrap and place on a lightly sugared surface. Yeah, sugared. The French are evil geniuses. At this stage, the dough will be slightly wet. Sugar the top and sides of the dough. I used my rolling pin (like so) to press it flat before rolling it out.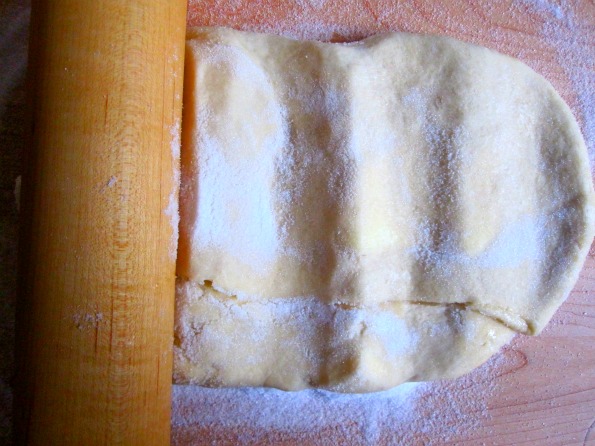 13. Just like before, once rolled out, dust with sugar. When done, fold in thirds like before and top with more sugar.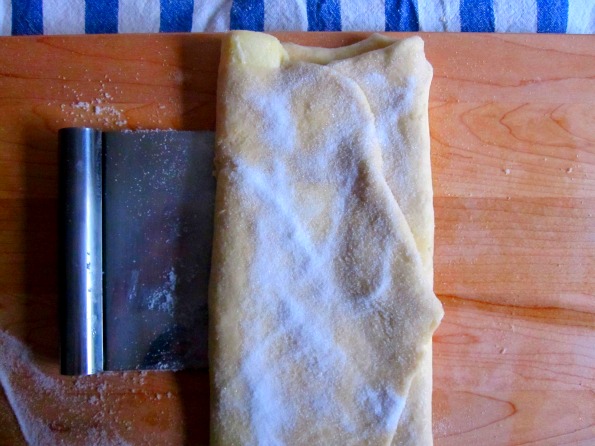 14. Then fold in thirds again, into the square shape like before. Wrap in plastic wrap and it's back in the refrigerator for another (and final) hour. Clearly, Amelie didn't intend on leaving the house for the rest of the day.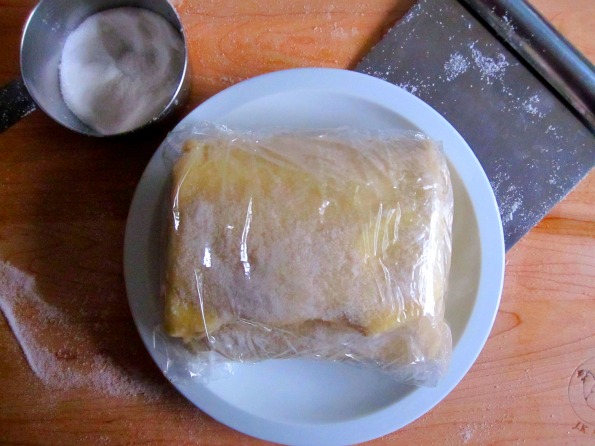 15. This is a good time to cut the plums. One or two will do.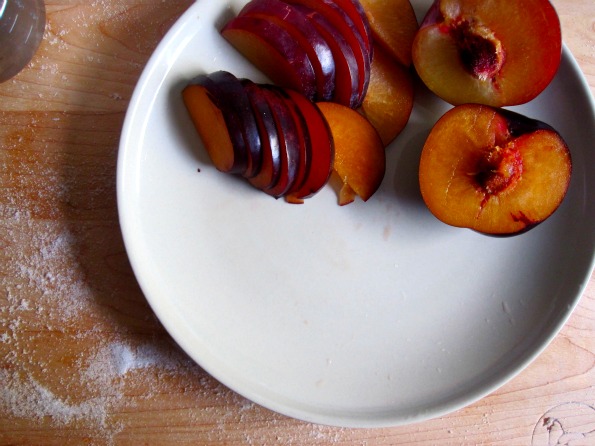 16. An hour has passed and we are ready for the final "roll" which is really more of a press and shape. The dough will still be wet and will have a crust. Put dough onto your rolling surface and flatten into a circle that will fit into a 9 inch pie pan.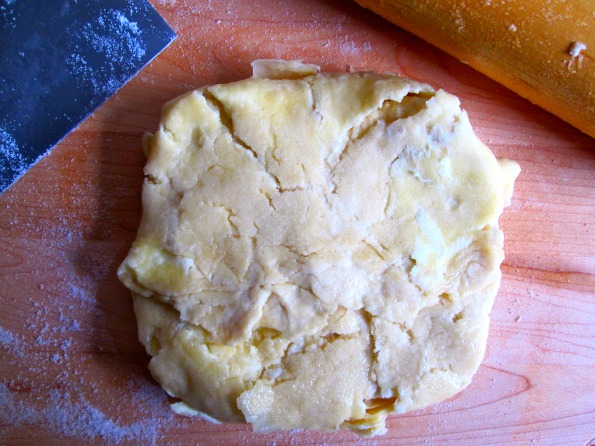 17. Top with plums. Make it pretty!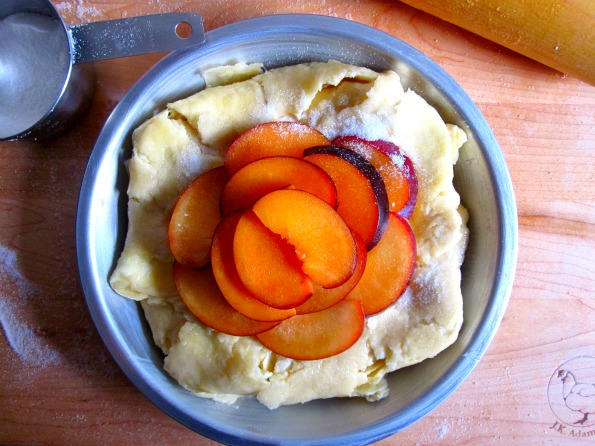 18. Top plums and kouign amann with final 1/4 cup of sugar and 2 tablespoons of melted butter. BECAUSE IT DOES NOT HAVE ENOUGH BUTTER IN IT YET.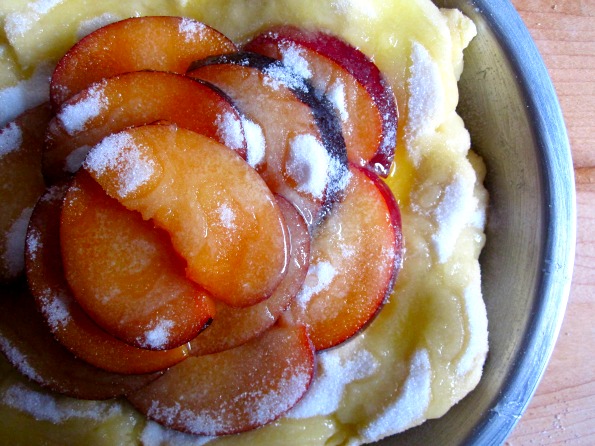 19. Bake this baby in a 425º oven for 45 minutes on a parchment lined cookie sheet.
This is important: the first 30 minutes of the bake are messy. Sugar and butter leak out, and at about the :30 minute mark, the leaked sugar starts to burn. I didn't want to smoke-out my kouign amann so I swapped cookie sheets and parchment about :30 minutes into the bake. Be careful, taking the cake out of the oven at this point is dangerous. The pan has very hot, very liquid butter and sugar mix that could burn you. Once out, I took the pie pan and moved it to the new parchment lined cookie sheet and returned to the oven. Problem solved! But be careful!
Update!
Commenter Robin and had luck baking the cake in a casserole dish like this one. She used parchment to line the bottom and reporteded back that it eliminates the leaking problem and the parchment makes it release easily from the pan. I'm tempted my make my next one in a parchment lined Le Cruset French oven! I'll update again if I do!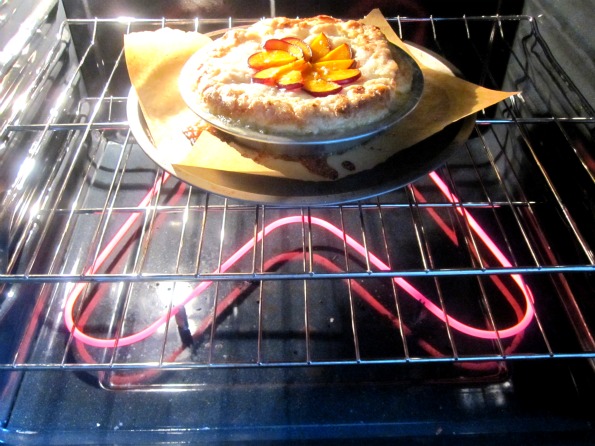 20. Remove from oven and gaze at it. Let cool for 15 minutes, loosen edges and remove from pan with a wide spatula. Let cool another 30 minutes. Slice and serve. Good work, baker.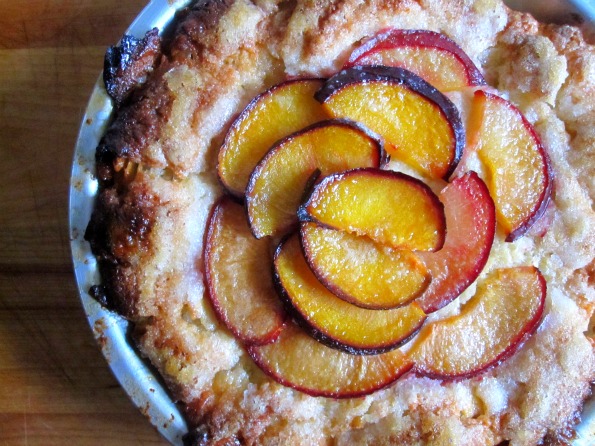 It tastes bread-like with a caramel crust that reminds me of creme brulee. It's simple. Reminiscent  of the best coffee cake you ever could imagine.  It tastes very very French. I can see how this would make a beautiful French girl very popular.
Vive Amelie. Enjoy the cake.