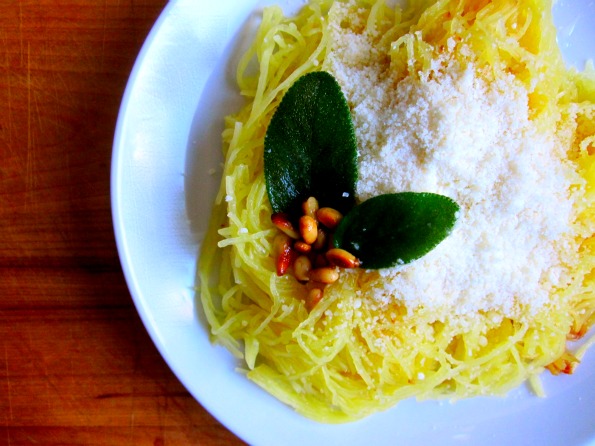 Can we all take a moment to applaud the spaghetti squash? Or maybe it's Mother Nature that deserves our thanks? Either way, it's a vegetable that cooks up like a noodle. It becomes noodles. And it's a vegetable. That is pure delight. I love spaghetti squash and I don't care who knows it. I'd shout it from my rooftop if it wasn't both very cold and very high up.
What you see above is my favorite way to consume spaghetti squash. It's easy, compliments the squash's subtle sweetness and uses a classic flavor combination: browned butter, sage and lemon. You really can't go wrong.

I was once ruined for browned butter and sage, always seeing it paired with pumpkin ravioli as the sole vegetarian option in too many fancy restaurants. I was excited the first time I had it but after that, it just tasted like weird pie-noodle-dessert-dinner. If you are in the same boat, I urge you to give it this sauce a second look. It's lighter, lemony and there is no pumpkin in sight.
I roasted the squash, which takes about an hour and smells delicious. The sauce comes together in a minute and since you don't overly brown the butter you can use the same pan to quickly toast the pine nuts.  Just be careful that there isn't butter down the side before you put it back on the heat. You don't wanna burn the house down!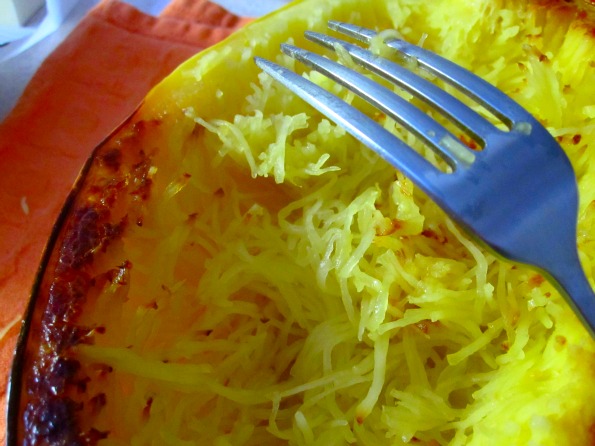 This recipe is a mix of Mario Batali and some AllRecipes action. For a vegan version, I'd use olive oil, sage and vegan Parmesan. Very tasty. It's pretty light, being squash and all, so if you want to serve it alongside something heartier, I'd suggest Field Roast's Smoked Apple Sage Sausages. Perfect pairing.
Spaghetti Squash with Lemon, Butter and Sage
Ingredients:
1 spaghetti squash
2 teaspoons olive oil for roasting the squash
4 tablespoons butter or olive oil
8 sage leaves, fresh
4 tablespoons pine nuts
lemon, juice of one half
Romano cheese or vegan Parmesan for topping, to taste
The prep:
Preheat oven to 375º.
Wash and dry spaghetti squash and halve lengthwise with a sharp knife. These buggers are hard to cut so you'll wanna be careful because having fingers is awesome. Once cut in half, remove seeds and coat the cut side of the squash with olive oil, about a teaspoon or so per half. Rub it around with your fingers or a pastry brush.
Place each half on a cookie sheet so the cut side is facing down. Put into preheated oven for 45-55 minutes, until tender.
When finished, let squash rest while you make the sauce. Put butter or olive oil in pan on medium heat. While heating, juice lemon and add sage leaves to bowl small bowl.
Olive Oil: bring to a simmer and pour into lemon juice and sage bowl. Will sizzle.
Butter: simmer until butter just starts to brown; pour into lemon juice and sage bowl. Will sizzle.
Set sauce aside to incorporate flavors.
Grab your squash and a fork — it's time to make strands! Place squash on a towel so you can hold it without burning yourself and scrape insides with a fork. It will break into strands. Scoop out and put in mixing bowl.
Pour sauce over spaghetti squash strands, holding back sage leaves. Toss to coat.
Chiffonade reserved buttery-sage leaves.
Plate up and sprinkle with sage and Romano or vegan Parmesan. Serve immediately.