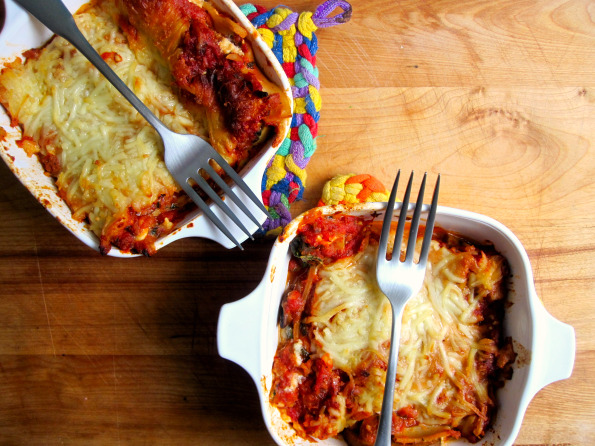 Vegetarian lasagna is often uninspired and over-vegetabled. I'm thinking of that broccoli, carrot in cream sauce wonder we've all endured at holiday gatherings or office parties. You know, the stuff sold by the slab at Costco, in the freezer section. It's, um, okay. It's mild and creamy but it's not what I think of when I crave lasagna.
This recipe is, though. This is hearty, tomatoey, cheesey, chunky heaven. It's basically your R.D.A. for delicious all in one pan.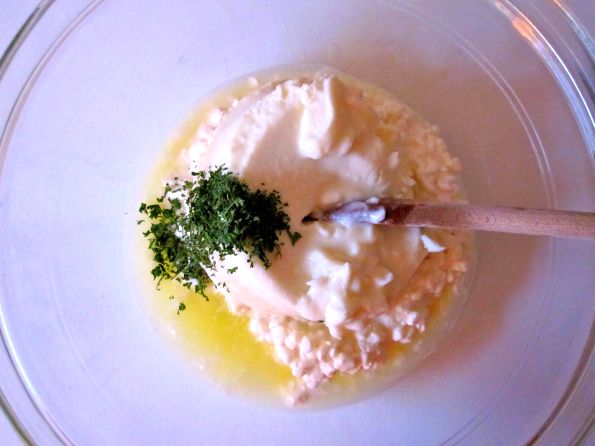 The sauce has a magic ingredient. Wait, that's all wrong. The sauce has a common ingredient, used magically. And it's tomato paste. Tomato paste! This isn't a two tablespoons and you're done kind of tomato sauce. Noooo sir, it's a whole can and you should make sure to use a rubber spatula to get it all out kind of sauce. It's transformational. It takes an otherwise regular sauce and makes it rich and complex — I didn't even know tomatoes could be rich — but they can. And it's awesome.
The filling is fairly standard. This lasagna isn't trying to win any prizes for creativity. Lots of cheese with sauteed mushrooms and spinach. Very how-mom-makes-it. Which is great. Because mom is a culinary genius. Right? Right.

A quick note on fake meats. I put in crumbled Field Roast Italian sausage in the sauce. Field Roast is my favorite fake meat. It seems the least processed and is the most delicious. Win. Win. I've also used Gimme Lean sausage style to good effect. Morning Star farms use to (maybe still does?) make a sausage crumble in the freezer section. Have you ever tried making your own? There are lots of great seitan recipes on this here webbernets. The best Italian sausage one is here. Deeeelicious. You can leave it out, or maybe put mushrooms in the sauce and eggplant and spinach in the lasagna? Mix it up, you really can't go wrong.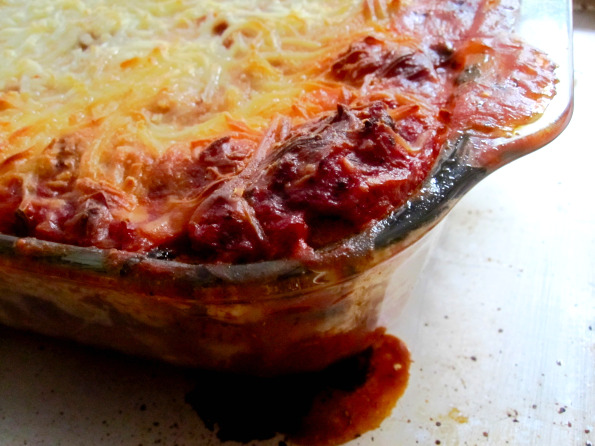 Vegetarian Hearty Lasagna
(adapted from Cooking Light's Hearty Lasagna)
The Sauce
Couple tablespoons olive oil for sautéing
1 package Gimme Lean, sausage style
Half a medium white onion, finely diced
3  garlic cloves, minced
1  (28-ounce) can diced tomatoes, undrained and chopped
1  (14 1/2-ounce) can Italian-style stewed tomatoes, undrained
1  (8-ounce) can tomato sauce
1  (6-ounce) can tomato paste
1 tablespoon dried oregano
1/2 tablespoon dried basil
1/4  teaspoon pepper
Salt to taste
The Filling
1 package crimini or button mushrooms, sliced
1 pound baby spinach, washed, stems on
1 glove garlic, minced
2 cups cottage cheese
1 (15-ounce) container of ricotta cheese
2 cups mozzarella cheese, shredded
1 cup Parmesan cheese, grated
1 egg or 1/4-cup egg whites or egg replacer
1 tablespoon dried or fresh parsley
The Noodles
12 cooked lasagna noodles
Preparation:
Preheat oven to 350º.
Heat olive oil in 4 quart pan. Add onion and diced Gimme Lean. Cook until "sausage" starts to brown slightly. Add garlic, oregano, basil and pepper. Stir in diced tomatoes, Italian-style tomatoes, tomato sauce and tomato paste. Let simmer for 25 minutes, tasting and adding salt if necessary.
In chef's pan, heat olive oil or cooking spray over medium heat. Add sliced mushrooms and cook for 5 minutes. Add garlic, stir. Wilt spinach over simmering mushrooms. Cook until liquid has evaporated. Transfer to bowl, set aside.
In medium sized bowl, mix cottage cheese, ricotta cheese, egg and parsley together.
To assemble the lasagna, coat a 9×13 pan with cooking spray. Spread 1 cup tomato mixture evenly across bottom of dish. Arrange 4 noodles over tomato mixture; top with half of cottage cheese mixture, 2 cups tomato mixture, and 1/2 cup mozzarella, 1/4 cup parmesan. Repeat layers, remembering to add in your spinach and mushroom mix near the middle, ending with noodles. Spread the remaining tomato sauce over the top and finish with remaining cheese and a touch of parsley for some color.
Bake in a 350º oven for 45 minutes on a lipped cookie sheet (just in case of spills).