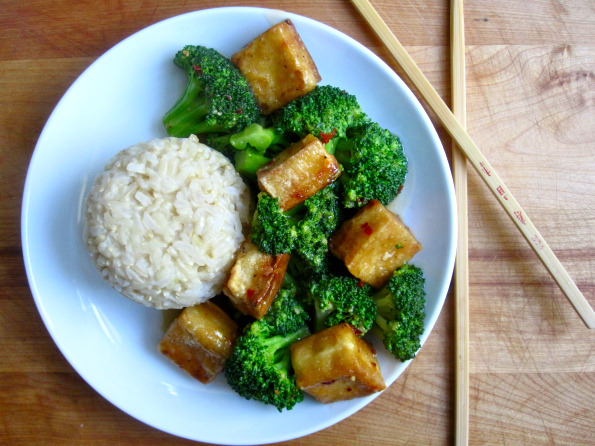 "Hello, <redacted Seattle area Chinese restaurant>!
"Hi, can I place an order for delivery?"
"Yes, go ahead…"
"I'd like one order of Genreal Tso but with tofu instead of chicken aaaand …"
"Hold on, hold on. <covers phone> Do we charge more for tofu? *mumbling* Oh, oh, we should. OK. OK. </covers phone> We charge extra for tofu."
"Really? That's never happened before."
"Tofu is very expensive."
"Tofu is a $1."
"It's gone up. It's very expensive now."
And so goes the story of how I learned to make Genreal Tso's Tofu. And for the record, tofu is still a $1.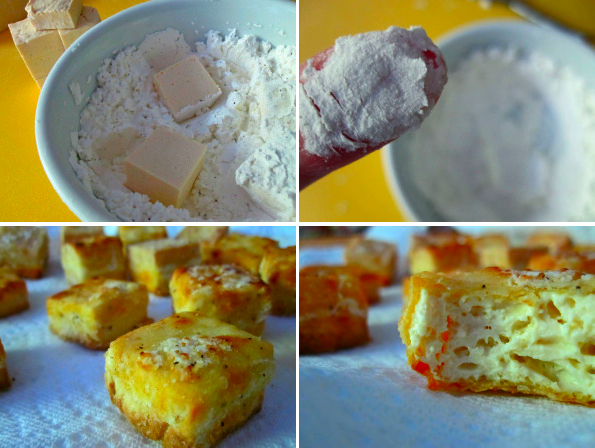 I love Chinese food. And I especially love General Tso. Which is the least Chinese Chinese food possible. The Chinese were unaware of this "Chinese" dish for quite sometime. It's a total fraud. But a delicious one.

This recipe is from Martha Stewart, a well known Asian chef. So you can be assured of it's authenticity. It's a guaranteed crowd-pleaser. I originally accidentally typed "crown-pleaser" instead of "crowd-pleaser" but if you are having royalty for dinner, I do think they would like it, too.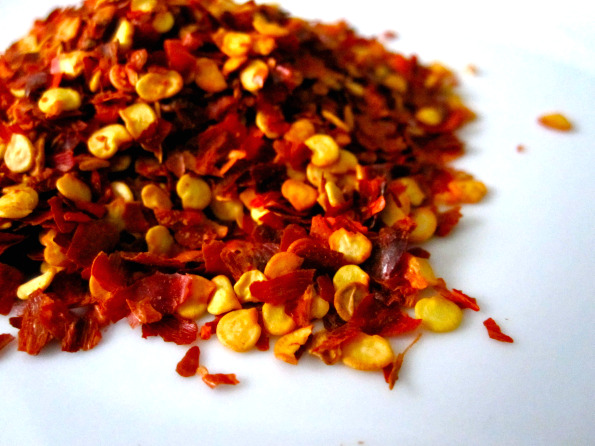 Before this, I had never attempted to make General Tso's Anything. Assuming the $20 for take out was because it was both Very Hard and Very Time Consuming. Guess what? It's not! At least this recipe isn't. It's simple and doable on a weeknight and best of all you know exactly what's gone into it and what hasn't. Like organic broccoli. And fresh ginger and garlic. And the fluffiest just made rice. Have I talked you into this yet? Good.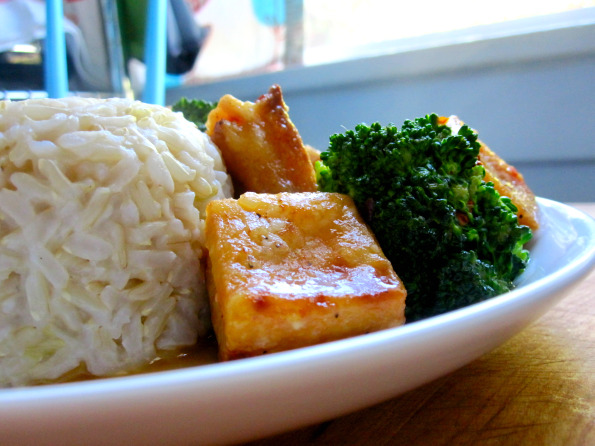 General Tso's Tofu
(Adapted from Martha Stewart's Lighter General Tso's Chicken)
Battered and Fried Tofu
1-14oz container of firm or extra firm tofu, press and diced into large squares
1/2 cup corn startch
oil for frying (about 1/4 inch in pan)
salt and pepper
The Sauce
4 garlic cloves, minced
2 teaspoons of minced fresh ginger
2 tablespoons of brown sugar
2 tablespoons soy sauce
1/2 teaspoon of red pepper flakes (or more if you are adventurous)
1 tablespoon corn starch
1/2 cup cold water
The Lieutenants
Brown rice
Broccoli – barely steamed so it's still crisp
Preparation:
Start your rice. The rest of the recipe probably takes about 30 minutes tops, if making brown rice, you might have some time to kill.
Pre-heat your oil over medium heat until a droplet of water sizzled immediately.
Slice the tofu into half inch thick strips. From there I cut into squares, but any shape works. Mix corn starch with a generous pinch of salt and pepper. Take each tofu square and coat in corn starch. Put into oil. It will take about 3-5 minutes on each side depending on how hot your oil is. It could take longer, but your oil is probably too hot if it takes less time!
Do a quick steam of your broccoli making sure it is still crisp and not over done.
Next, let's make the sauce. Combine 2 tablespoons corn starch with 1/2 cup cold water, whisk together. Add garlic, ginger, brown sugar, soy sauce, red pepper flakes and whisk again. Set aside.
When rice is almost done and tofu has browned, combine tofu and broccoli in sauce pan or wok. Add sauce and stir over medium heat. Sauce will quickly thicken — about 3-5 minutes. Serve on top rice.
Enjoy!