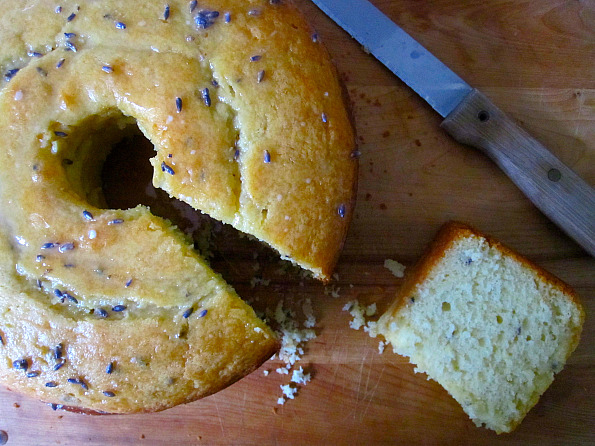 This cake is divine. The lemon and lavender perfectly compliment each other. Total BFFs. My house smelled like some sort of high end bakery-spa for a whole day. Are there bakery-spas? Because there should be.
I was lucky enough to stumble upon a recipe for this coffeecake in the Macrina Bakery Cookbook. Macrina is a Seattle favorite. Artisan breads, amazing cakes and muffins, decadent cupcakes and generous slices of some of the best coffee cake and quick breads you will ever find anywhere ever. All are lovingly served up in the most darling little bakeries tucked away in a handful of Seattle neighborhoods. I'm lucky enough to live in one of those neighborhoods and the three mile round trip walk almost makes up for the big ol' slice of awesome I munch while there with a cup of peppermint tea.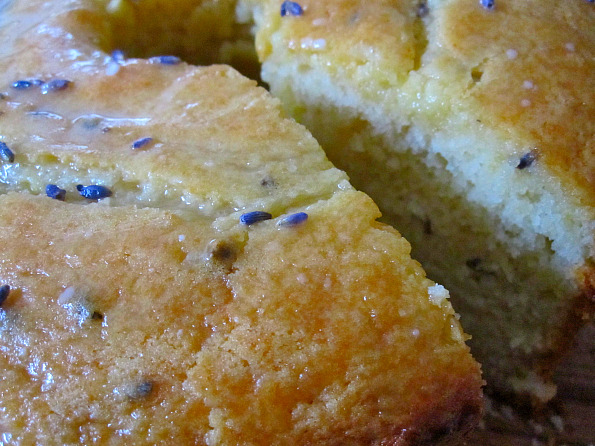 This recipe makes a very large cake. Very large. It fills a tube pan/angelfood cake pan with no problem whatsoever. Perfect for sharing. And share I have. Each person to receive a hunk has been most appreciative. I'm sure you'll find the same to be true.

And before you go ripping open that sachet your grandma gave you for Christmas last year, be warned that smelling lavender and cooking lavender are two different things. High end grocery stores should have the latter and if not, you can order some here. If mail order isn't your thing you can sub sour cherries for the lavender — Macrina uses this lemony base for both this cake and their sour cherry one. Both are superb.
Much like my warnings for the Cook's Illustrated brownie recipe, there is a point in the mixing when something seems to have gone horribly wrong. Do not fear! It is a temporary situation!  Post fluffing the butter and sugar, post adding in the eggs you incorporate the lemon juice — at this point the batter takes on a very unpleasant curdled appearance. But after you add a little flour and a little yogurt and a little more flour, things start to shape up and by the time all the flour and yogurt are incorporated, you have a beautiful looking cake batter. Proof below:

I encourage you to make this if only to smell it. Your house will have this wonderful lemony scent with a hint of lavender hanging around for at least a whole day, if not a little longer. It's pretty much the best thing to come home to that you can imagine.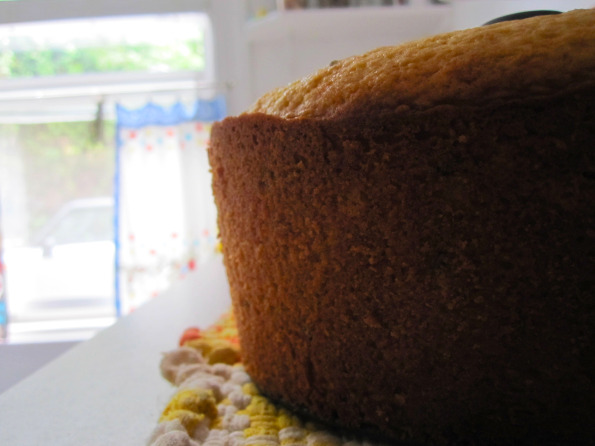 Lemon and Lavender Coffeecake
(from the Macrina Bakery Cookbook and Fresh From The Oven)
The cake:
1 tbsp dried lavender
4 cups all-purpose flour
1 tablespoon baking powder
½ teaspoon baking soda
½ teaspoon salt
2 sticks unsalted butter, room temperature
2 ¼ cups granulated sugar
3 tablespoons freshly grated lemon zest (about three lemons)
5 eggs
¼ cup freshly squeezed lemon juice
1 cup plain yogurt
The delicious glaze:
1 cup powdered sugar
2 teaspoons freshly grated lemon zest
2 tablespoons freshly squeezed lemon juice
1 teaspoon dried lavender
a splash of milk or cream (optional)
Preheat the oven to 325º. Butter or oil a large tube pan (angelfood cake pan).
Sift flour, baking powder, baking soda,and salt into a large bowl. Add in the dried lavender. Give it a quick whisk and set aside.
Combine butter, sugar, and lemon zest in the bowl of a stand mixer. Using the paddle attachment, mix on medium speed for 5 to 8 minutes. This will make it extra fluffy and light, it will become a soft yellow color. Add eggs, one at a time, making sure each egg is fully mixed into the batter before adding another one. Then slowly add the lemon juice and mix for 1 more minute. Here is where it looks wonky — do not worry and carry on!
On a low speed so as not to send flour flying around your kitchen, add 1/3 the flour mixture. Incorporate. Add 1/2 the yogurt. Incorporate. Repeat again, ending with the flour mix. Spoon batter into tube pan. It will fill it just over half full. Tap on the counter to get the bubbles out. Bake on center rack of oven for 1 hour and 10 minutes, or until the top is golden brown. Check the center of the coffee cake with a toothpick for doneness. It should come out clean.
Let cool and then take a sharp, thin knife around the outside edge to loosen. You should be able to tip it over onto your hands and transfer to a plate while still on the tube/bottom part of the pan. Let cake cool completely and liberate from the tube. You may need the knife again.
Now to add the glaze!
Sift powdered sugar into a medium bowl, then add lemon zest and lemon juice. Incorporate. Here I added a splash or two of milk to make it a little less acidic and a little more creamy. Whisk again until smooth. Drizzle glaze over the cooled coffeecake.
Will keep for a few days, if it starts to dry out, you can always add a little glaze to each piece as you serve it.
P.S. If you want to use cherries, add 1 1/2 cups frozen sour cherries in at the very end with a few gentle folds.