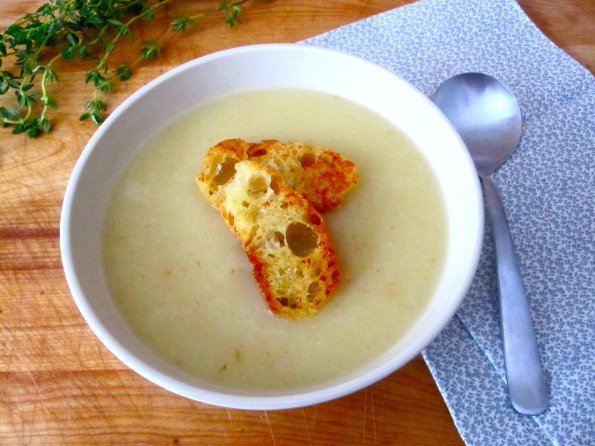 If you had told me that one Russet potato could make a whole pot of potato leek soup taste potato-y, well, I don't know if I would have believed you. I wouldn't have been so bold as to call you a liar, I just would've quietly had my doubts. Until I tasted it, that is. Then I would have wanted the recipe.
So, dear reader, please don't think I'm pulling your leg with this sparsely potatoed potato soup. I don't know how it works either. Maybe leeks secretly taste like potatoes while camouflaging themselves to look like green onions. I wouldn't put it past them. They are surely the shiftiest of vegetables.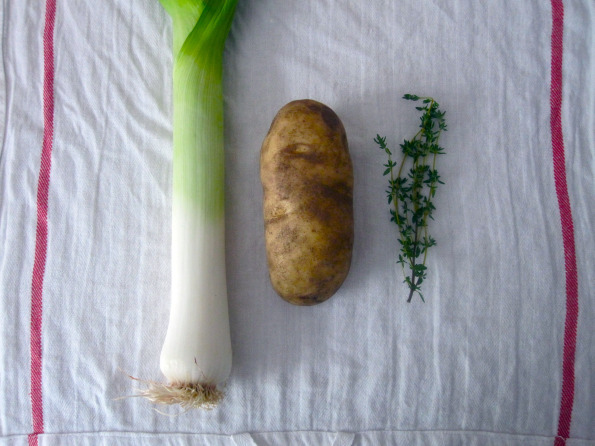 I found myself with four very large leeks and nothing to do with them. How large? Think baseball bat. Nothing to do with them? Think not getting any younger in my refrigerator. I considered leek gratin, leek frittata, leek quiche, braised leeks, steamed leeks , yadda yadda yadda leeks but nothing sounded good. Until the soup. I had forgotten about soup!
The world is full of recipes for potato leek soup. Most contain copious amounts of cream, which I wasn't interested in. Creamy soups make me want to nap — not because they're boring but because they can be so heavy. So so heavy. I still wanted it smooth though. I was in a bit of soup limbo until I happened upon Cook's Illustrated's ingenious little recipe. It uses old bread instead of cream. Brilliant.

This soup is pretty easy with the added bonus of leeks being fun to chop. Have you chopped a leek before? Slice the white-to-pale green part down the middle and thinly slice. When you move them to your bowl break them apart with your hands. They fall into tiny curls. I love that.
Like all soups, this one needs a topping to go from good to great. Crackers are OK, but garlic toasts are better. Especially when you have bread around anyway. Right? Right? Melt some butter in a skillet. Add a little garlic. Turn heat to low-ish. Add sliced bread. Flip when golden. Toast other side. Soup topping perfection!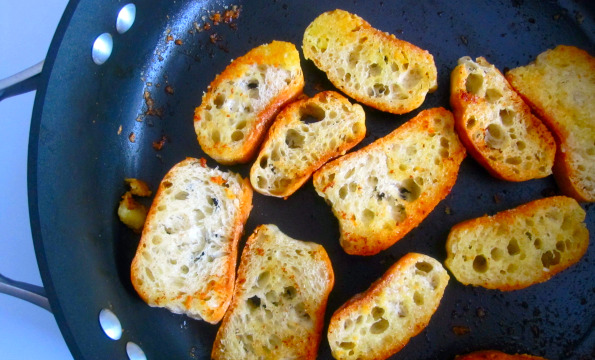 Potato Leek Soup
(recipe from Cook's Illustrated — if you aren't a member, I recommend it!)
Ingredients

2    large leeks , white and light-green parts sliced thin (roughly 4 cups), dark green parts halved, washed, and cut into 2-inch pieces for broth
2    cups light colored vegetarian broth (like Swanson's or Better Than Boullion No Chicken Broth)
2    cups water
4    tablespoons (1/2 stick) unsalted butter or Earth Balance
1    medium onion, halved and sliced thin
1    small russet potato, peeled, and cut into large cubes
1     bay leaf
1 (4-inch) sprig fresh thyme
1 large slice day old white bread, torn or cut into 1/2-inch pieces
Salt and pepper (white pepper if you have it, black is OK, too, though)
Bring water and broth to a boil, add dark green leek tops, cover and simmer for 20 minutes. When done, strain broth through a fine mesh strainer. Press down on the greens to release additional broth. Set aside.
In same pan (now empty), add butter over low heat. When foaming, add leeks, onion and salt. Stirring frequently, keep heat medium low and cook until vegetables are tender, about 10 minutes. If you see any browning, lower heat immediately.
Once vegetables are softened, add broth, potato, thyme and bay leaf. Increase heat to high and once at a boil turn down to low. Simmer for 15 minutes or until potato is tender. Lastly add day old, dry bread. (If your bread isn't dry, toast it in your toaster to a light brown before adding). Let it soak for about 5 minutes.
Take soup off heat. Remove thyme and bay leaf. Using an immersion blender, puree hot soup. Be careful! It's hot soup! If you'd like to use a blender instead, make sure to not fill more than half way full with hot soup. Steam does wacky things in a blender. Wacky, potentially painful things.
Once all of the soup is smooth, return to sauce pan and bring back up to a simmer. Season with additional salt and white or black pepper to taste.
Soup's on!