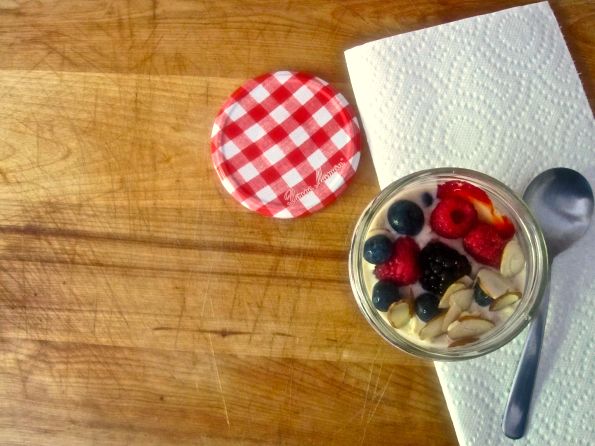 While I feel like I should kick off this post talking about what a great breakfast muesli makes I am instead compelled to sing the praises of Bonne Maman jam. The jam is, of course, superb but the jars — they take it over the top. The darling gingham lids and perfect size make it so I never recycle a jar. They're all in my cupboard, acting as juice glasses and ice cream bowls and the perfect little containers for a breakfast of European style muesli on the go.
Oh YES, the muesli. I'm a total sucker for oats soaked in yogurt. I know that can sound suspect, a little like cold gruel, but I love it. I'm sure the honey and brown sugar don't hurt. Or the fresh apples and grapes. Or the berries. Take all that and  spoon it into little jars and you have the perfect take-to-work breakfast.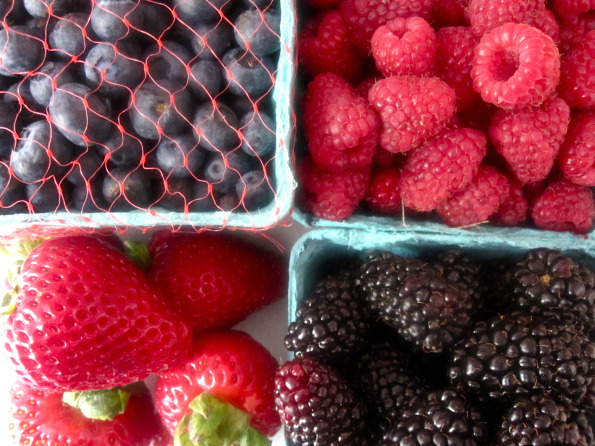 If you are a regular cold-weather oatmeal eater, then this could be your summertime best friend. All the benefits of oatmeal with none of the hotness. It takes a bit of planning to prepare, the oats need to soak overnight, but this recipe makes a lot and it keeps for days (providing your yogurt and milk are fresh). The fresh fruit topping can be anything you like — plums, kiwi, peaches, apricots. I used berries from the farmer's market because, well, just look at them, I had to.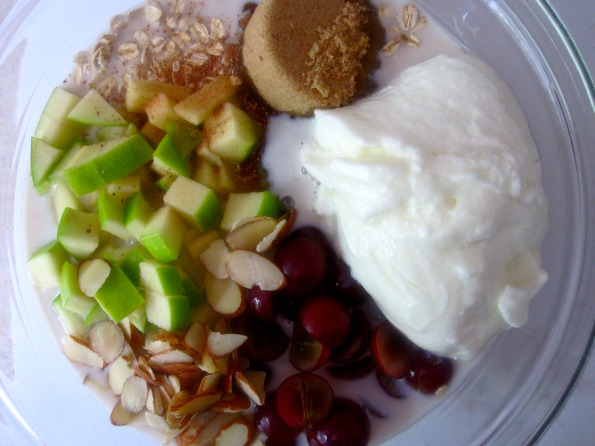 If you'd like to make this vegan, I'd use soy everything or coconut everything. It doesn't seem to work as well when you use almond milk and soy yogurt for instance. Something about the mix in flavors seems a little off.
Happy muesli making and here's to starting your day off right!
Muesli
Ingredients:
5 c. uncooked, slow cook oatmeal
3 c. milk
16 oz. plain yogurt
2 small apples or 1 large one, tart works best
1.5 cups red grapes, halved
3/4 c slivered, toasted almonds
1/4 teaspoon grated nutmeg
3/4 cup light brown sugar, packed
1/2 cup honey
1 teaspoon vanilla extract
1/8 teaspoon salt (just a pinch really)
Fresh, seasonal fruit for topping
Prep:
Mix together yogurt, milk, nutmeg, brown sugar, honey, vanilla and salt. Fold in oats, fruits and nuts. Refrigerate overnight. Serve topped with sliced or diced fresh fruit.