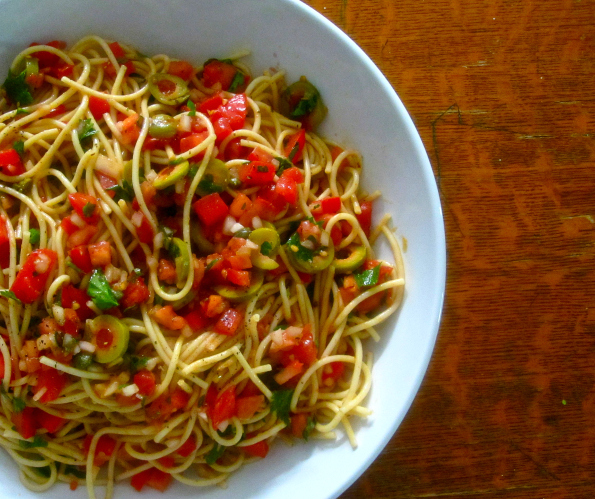 I love summer. It was 95º yesterday. After a July of 60º highs and long stretches of rainy days, it was nice to see cloudless skies. Nice to feel hot. Nice to wonder where the sunscreen is. Just nice.
It got me thinking about summer. Summer is all about the senses, isn't it? Maybe more than other seasons? Everything seems heightened. The longer days and warmer temperatures bring people outside, give you something to talk about. You're sweaty. And thirsty. And pink. Summer swallows you up.
I made this salad then. When I was swallowed up by summer. I suggest that if you're going to make this salad, please do the same. Pick a hot day. Put your hair up. If you have to sit on your porch for a bit to get in the mood, or take a walk in your garden, do it. Just be in awe of summer.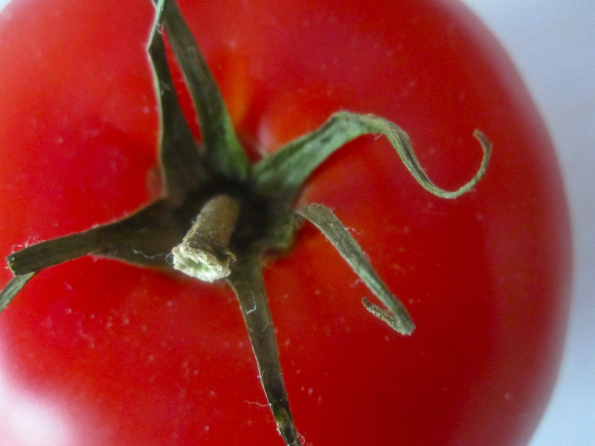 Start with warm tomatoes from your window sill. Take a second to smell the stems. Isn't that the best smell? Wonder what a caper is (for the 100th time). Feel how weird it is to hold an olive. They're so slippery! Inhale deeeeeply when you chiffonade the basil. Get excited about how the steam from the boiling pasta makes you shiny. Take big swigs of ice water. Continue being in awe.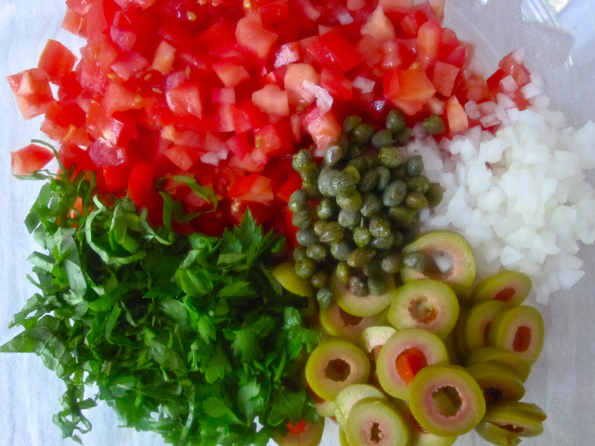 This is a perfect salad for hot days. It's downright utilitarian. No cheese or creamy dressing to worry about. Nothing to wilt or get soggy. A showcase for ripe tomatoes and fresh herbs. This recipe makes a big ol' bowl full. Perfect for sharing. Perfect for potlucks. Perfect for picnics.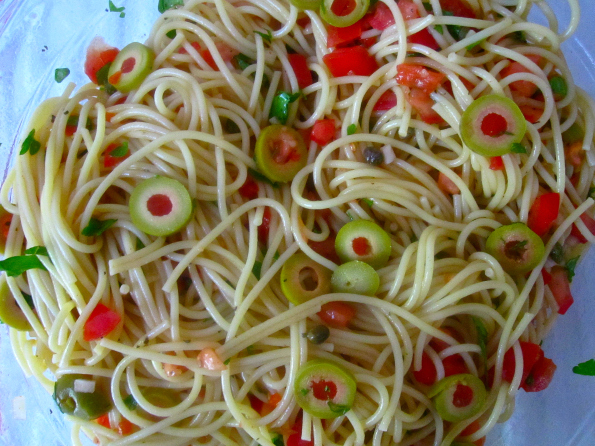 To summer.
Summer Spaghetti
(From Dayton's Marketplace in Minneapolis, when it was still around … )
1 pound firm ripe fresh plum tomatoes, coarsely chopped
1 small onion, minced
12 large, pitted green olives, sliced
2 medium cloves garlic, minced
1/2 cup chopped fresh Italian parsley
1/4 tablespoons finely shredded fresh basil
2 tablespoons drained capers
1/2 teaspoon paprika
1/4 teaspoon dried oregano leaves
1/8 cup red wine vinegar (or to taste)
1/2 cup olive oil
1 pound uncooked spaghetti, cooked and rinsed in cold water or chilled
salt and pepper to taste
Mix cooked spaghetti, tomatoes, onion, olives, garlic, herbs, capers in a large bowl. Mix dressing: olive oil, vinegar, paprika, salt and pepper to taste. Pour dressing over spaghetti mix and toss well to coat. Chill at least two hours, preferably overnight.
Enjoy!