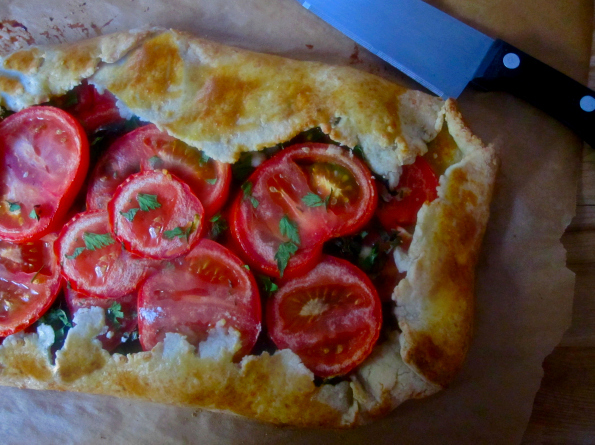 This is a recipe from my good friend Christina, first tasted six, maybe seven, years ago. It was amazing. One bite and I feared I would eat the whole thing. Her crust was absolute perfection. The tomatoes were red red red. Summer at its finest. The herbs. Oh my. I could write a poem about it. This girl has the knack. A carefulness about her cooking that takes good recipes to great executions. She can do no wrong in the kitchen.
My version of this savory tart was tasty. It was delicious because tomatoes, herbs and Parmesan cheese are delicious. It was pretty. My friends Laura and Jonathan ooo'd and aaah'd. My house smelled amazing. But with one bite, it secured it's 2nd pace standing. "It's not as good as Christina's." I said.
"I knew you were going to say that." Jonathan said.
Maybe it's the salad syndrome. Or the grilled cheese effect. It always tastes better when someone makes it for you. A little behind the scenes magic is the key ingredient. But with all that said, and assuming that none of you have been so lucky as to have had a bite of a rustic herbed tomato tart with Parmesan crust made by Miss Christina, this will surely win 1st place in your world and be a summer staple for many many years to come.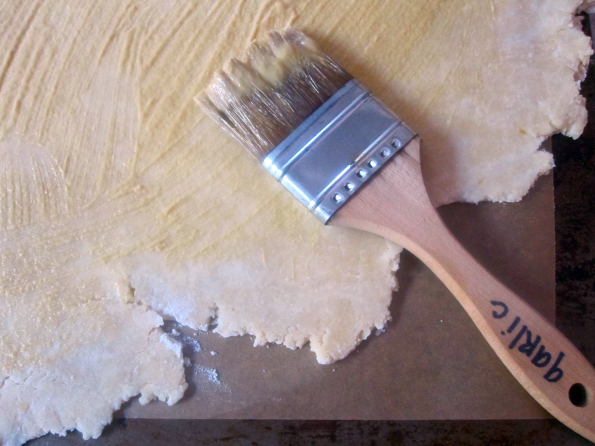 Don't let the crust scare you off. It comes together nicely. I'm a big fan of making crust by hand, the old fashioned way, rather than a food processor. Food processors break down the butter too much. They don't leave uneven chunks of it in the dough, which is very important to flaky deliciousness. It's those butter pockets that create a crust's texture and if they're gone, the resulting crust can be heavy and flat. Making it by hand, keeping the butter as cold as you can, and putting the finished product into a properly heated oven — those are the tricks. The secret hand-shake of crust making.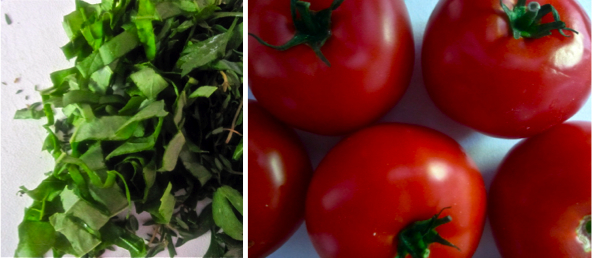 While I would like to be a tomato expert, I am a mere tomato novice. I had to ask the produce manager which tomatoes were the least juicy. Beefsteak, she claimed, were the ones to get and I obliged with good results. I was tempted to use heirloom tomatoes. So. Very. Tempted. How beautiful! Purples and greens and nearly ultra-violet reds! I resisted, however, because heirlooms can be so distinctive in their flavors. I wasn't sure which ones would compliment or compete with each other, which were sweet, which were more tomatoey in their taste. So I opted for the tried and true. But that doesn't mean you have to.
The assembly is easy as can be. Rustic tarts are so forgiving and always look picture perfect when you take them out of the oven.  Golden brown and uneven. Just like you intended.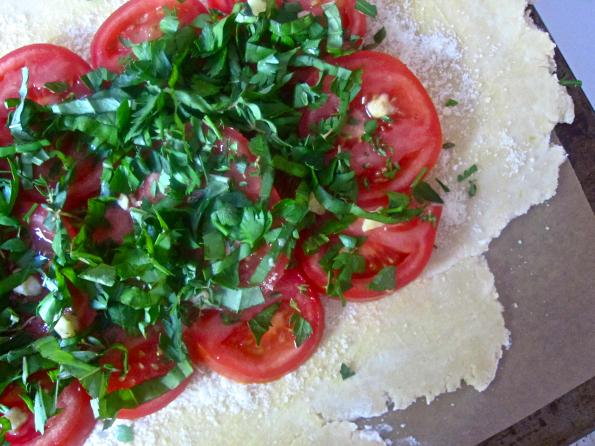 This tart. Garlic bread. Italian greens, sliced plum and hazelnut salad with balsamic dressing. Lots and lots of wine. A few rounds of Uno where you don't keep score and are only 50% certain of what the rules are. That's a pretty good August evening.
Rustic Herbed Tomato Tart with Parmesan Crust
(passed along from the wonderful Christina)
Pastry
1 ½ cups all purpose flour
½ cup unsalted, cold butter, cut into 5 pieces
½ tsp salt
½ cup freshly grated Parmesan cheese
Zest from ½ lemon
¼ cup ice water
Filling
1½ tbsp Dijon mustard
2 tablespoons freshly grated Parmesan cheese
2 tablespoons finely chopped fresh basil
1 tablespoon finely chopped fresh thyme
1 tabelspoon finely chopped Italian parsley
2 cloves garlic, minced
Salt and freshly ground pepper to taste
6 to 8 ripe beefsteak tomatoes, cut into ¼" thick slices
1 tablespoon olive oil
1 egg yolk beaten with 1 teaspoon water
To prepare pastry:
Using a pastry blender cut cold butter into the flour and salt until it reaches size of peas. (Uneven butter chunks are ok! Encouraged even!) Add zest and Parmesan cheese. Slowly add ice water, mixing with spoon, until dough starts holding together. Kneed briefly and shape into a 12-inch circle. If not using right away, dough can be wrapped in plastic and refrigerated. When ready to use remove and let soften to room temperature, about 15 minutes.
To assemble tart:
Preheat oven to 425 F.
Transfer the dough to a parchment lined baking sheet. Using pastry brush, paint pastry with Dijon leaving a 1 inch border all around. Sprinkle Parmesan cheese evenly over mustard. In small bowl combine basil, thyme, parsley, garlic, salt and pepper. Arrange 1/2 tomato slices over Dijon coated pastry and sprinkle with herbs. Cover herbs with remaining tomatoes, overlapping if necessary. Drizzle olive oil over tomato and herb mix. Fold the rim of pastry over the tomatoes to enclose sides of tart. Pinch cracks to seal – you don't want leaks! Unleash your inner artist and paint dough with egg wash.
Bake 20-25 minutes. Let cool about 10 minutes. Slice and serve warm.