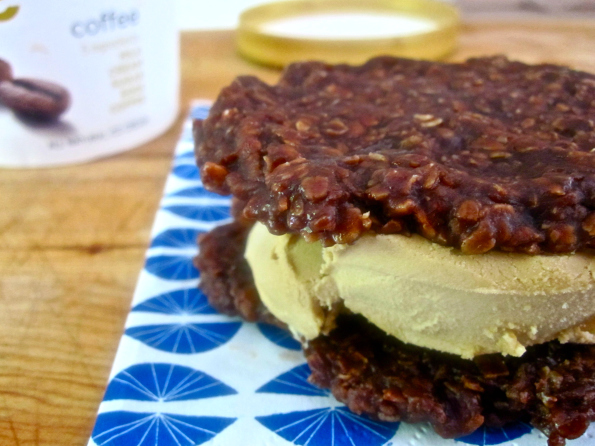 Summer is here. Kiddie pools and swimsuits. BBQ's and cold beer. Isn't this just the best? Are you having fun? I hope you are. I am. What a month. What a blue sky. What a 10pm sunset. I wish August could last forever. And ever. And then it could last a little bit more.
Hey, do you remember no-bake cookies? Cocoa, oats, peanut butter. Being shoo'd away while they'd cool? They are part candy, part cookie. They set up instead of bake and their chewy texture comes from boiling sugar until it turns into science. They never crumble or dry out. To share one you more pull it apart than break it in half. This got me thinking about what may be their highest calling: a starring role in an ice cream sandwich.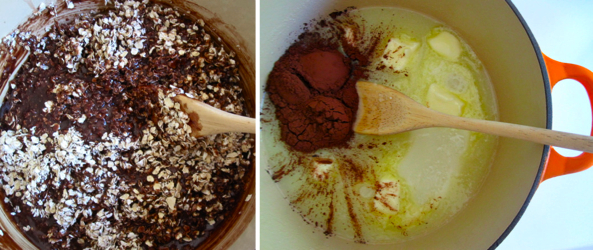 First the cookies. They take 10 minutes to make and all of eight ingredients. They have that rice krispy thing going for them, where you can dust your apron with flour and pretend they were Really Hard to make and most people will believe you. "What a saint you are, turning on the oven in this heat. And you did it for the children. Wow. How *do* you do it all?" Just smile and nod.
I was barely able to photograph the progression of these cookies because it happens so fast. Nothing seems to boil quicker than butter and sugar. It was already simmering while I was still adding ingredients! A handy tip would be to measure out everything before you start melting the butter — the cocoa, oats, peanut butter — get it all ready. It goes really fast. Srsly.
Please note: there's a debate on AllRecipes about how long the butter and sugar mix should boil. The standard 1-minute mark didn't set up for some people and 2-minutes or more yielded cookies that were too candy like. (Oat candy? No one wants oat candy.) The good news about making these for ice cream sandwiches is that the set is less of a concern due to the freeze – so stick with the 1-minute time. Even cookies that don't set up ideally will work just fine, maybe even better, when frozen. If you're hoping for cookies outta this, follow along and they should set up. Mine did. But it seems that some don't. Your Plan B should be the refrigerator. Which is still a tasty Plan B.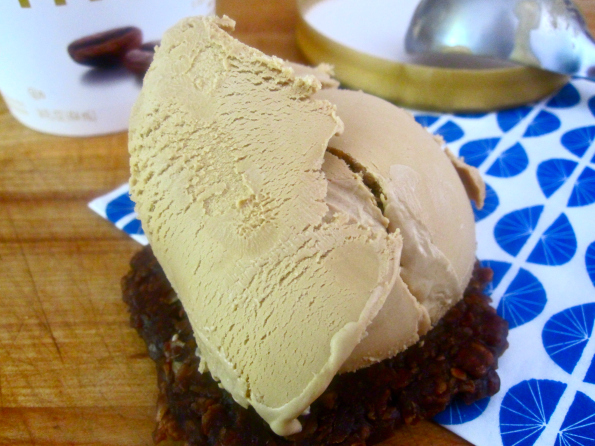 And then the ice cream. Of course vanilla would be great, maybe with a smear of peanut butter on either side. Chocolate, of course, would also be delicious. You could go crazy with Ben and Jerry's over-the-top peanut butter cup. Or, my favorite, coffee ice cream. It adds a little poshness to this down home treat. One big scoop in the center of a cookie, topped and smooshed with another. Mmm. These will make you the hero of hot days.
No Bake Cookies (for Ice Cream Sandwiches)
(Adapted from All Recipe's
No Bake Cookies III
)
1 1/3 cups white sugar
3 tablespoons unsweetened cocoa powder
1/2 cup butter or margarine
1/2 cup milk
1 pinch salt
3 1/4 cups quick cooking oats
1/2 cup creamy peanut butter
1 teaspoon vanilla extract
1 pint coffee ice cream, or flavor of your choice
In a heavy-bottomed saucepan bring sugar, cocoa, butter, milk, and salt to a rapid boil. When you've reached a rolling boil, start your timer for 1 minute. When done, remove from heat. Add quick cooking oats, peanut butter, and vanilla; mix well.
Working quickly, drop tablespoons onto parchment paper. Let cool to the touch and press them down into a flatter cookie shape for ice cream sandwiches. (If you'd like them as cookies, leave them in their original drop shape.)
When pressed and room temperature, transfer to the freezer for 1 hour or until you are ready to make ice cream sandwiches. When chilled, take out the cookies, put a big scoop of softened ice cream in the center of the bottom cookie and flatten with top cookie until ice cream reaches the edge.