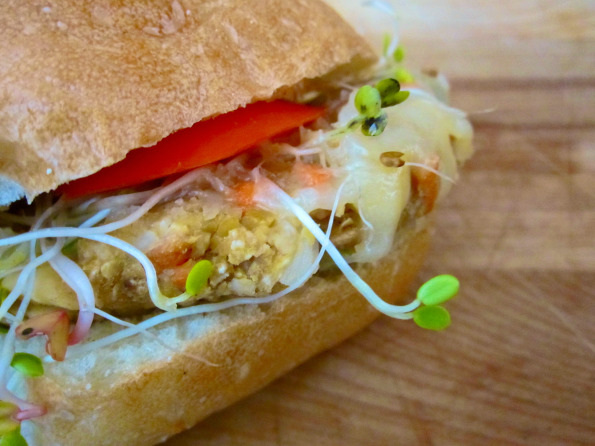 Nut burgers. Nut. Burgers. Nutburgers.
Hee hee.
Aside from their name, there's nothing unappetizing about these little guys. They're more like an Americanized falafel than a hamburger, better with fresh vegetables than ketchup. But delicious with cheese. Monterey Jack perhaps? Or cheddar? Both sound tasty. They whip up fast and the only cooking required is a quick pan fry at the very end, making them perfect for those 85º days when your kitchen is flooded with sunlight and captures only the rarest of breeze.
This recipe is a take on a veggie burger that I was fond of in Minneapolis. When everyone else was devouring giant, size of your head size hamburgers, I'd settle in with an equally large, fresh vegetable-tastic one of these. Cucumber, tomato and a handful of sprouts on top of the melted cheese, served up on an almost chewy bun with a side of perfectly done french fries. And a Coke. I never once felt like I was missing out on anything. Well, other than heart burn.

I think it's fair to put this in a budget friendly category. The raw cashews are the priciest ingredient, weighing in at $5 for the cup and a half needed, but I bet you could get that down if you happened upon a bulk bin at your local grocery store. Everything else — garbanzo beans, onion, celery, carrot, oats — basic, affordable staples yielding lots and lots of tasty nut burgers. Nut. Burgers. Heh.
Recipe Notes: I used my trusty Kitchen Aid for this, but you could make these by hand with a pastry blender. If you're relying on elbow grease to transform beans into binder, heating them up might help get to the desired mush-like consistency quicker.
I hesitate to endorse using a food processor, I worry it would puree the beans instead of mash them. But if that's all you have, I'd do the beans, rice, nut butter and soy sauce only, adding everything else by hand to that pasty mix.
To boost their adorableness, I made mini-sized patties and served them in split dinner rolls. They looked like fancy party sliders. Tall, frilly tooth picks would have made them almost too cute to eat. Almost.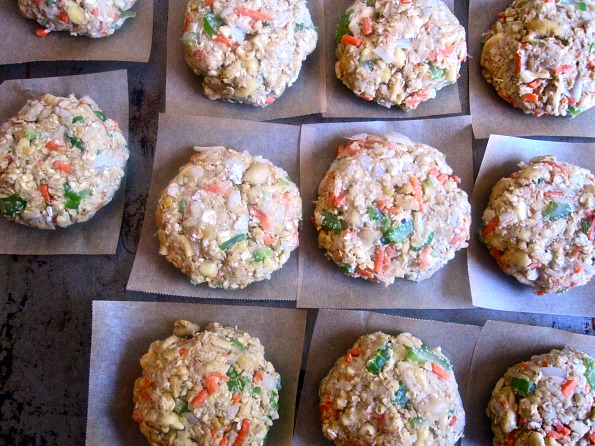 Nut Burgers
1 16oz can garbonzo beans, drained
2 tablespoons peanut butter / tahini / cashew butter (your pick!)
½ cup cooked rice
1/4 cup soy sauce
1 ½ cup raw cashew pieces
1 cup chopped celery
½ cup chopped onions
¾ cup grated carrots
1 1/2 cup quick cooking oats (approximate)
Using your Kitchen Aid fitted with paddle attachment (or other kitchen mixer) combine beans, peanut butter, rice and soy sauce. Mix until beans become paste-like but some pieces remain. About 4 minutes on low speed. Add celery, carrot and onion, mix to blend. Slowly add 1 1/2 to 2 cups quick cooking oats until mix starts to come together and can be formed into a loose patty. (These don't get real sticky, and aren't suitable for grilling.)
Pan fry patties on medium-low heat in butter or olive oil until slightly brown on each side. About 3 minutes per side. When first side is finished cooking and flipped, top with cheese and cover pan for remaining 3 minutes.
Serve with tomato and cucumber slices and a pinch of fresh sprouts.
Makes 12-14 slider-sized nut burgers.