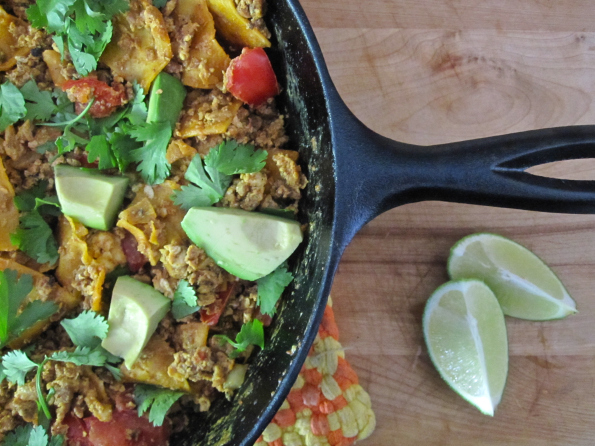 I've been in Austin, TX exactly once, for exactly one week. The number of times I had migas: zero. I had gingerbread pancakes. I drank my body weight in margaritas. But no migas. At the time, I hadn't really heard of migas. When suggested by a kindly stranger or hotel concierge, they seemed to stop being suggested when I'd confess my vegetarian-ways. Migas seemed a dish for the meat-eater; pancakes and hard alcohol seemed like the breakfast of the vegetarian.
I gathered what migas were from their many fans. The sausage, tortilla and egg combo that made the teller's eyes roll back in their heads, a bit of drool emerging from the corners of their mouths as they recounted their many migas breakfasts and the best places to partake. "I want to go to there." I thought, "I want to go to there real bad."
And when I finally did manage to try them I was a fan, too. Soy chorizo, farm fresh eggs, ripe tomatoes, avocado, a squeeze of lime. Did I just drool a little? Probably.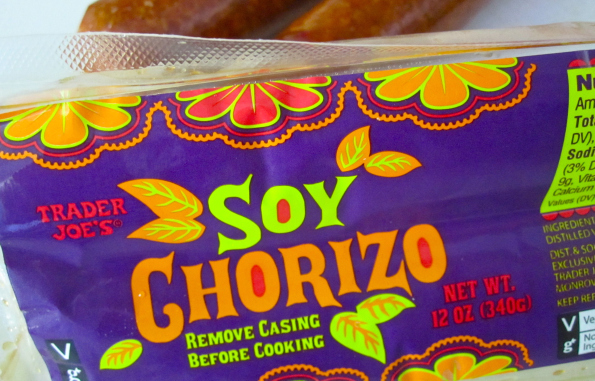 To what do I owe my vegetarian adventure into meat-eater breakfast? Trader Joe's or the many other fine makers of meat-free meat. There is the original, El Burrito's SoyRizo, and of course Seattle's own Field Roast has a chorizo flavor as well. I even bet there are some great at-home seitan/soy recipes to make chorizo style crumbles or sausages in the comfort of your own kitchen. Know what else? I bet heavily spiced black beans would even kick ass. The possibilities are endless.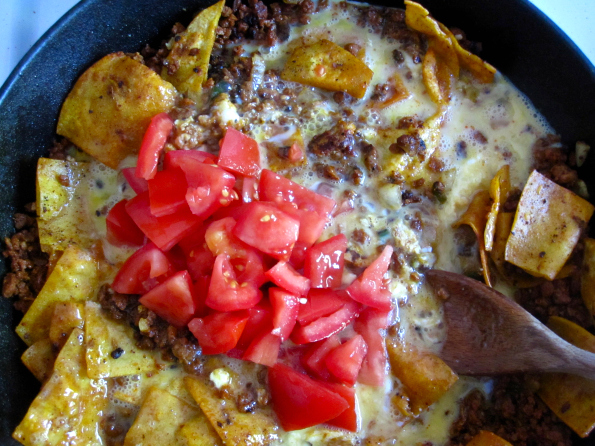 We have the spicy sausage, now we need the tortillas and eggs. Any old corn tortillas will do. Fresh. Stale. It doesn't matter. Once fried with the chorizo, they will be little squares of heaven. Coated in eggs. The best eggs. I went on a mini-field trip to the farmer's market for the very best in Puget Sound egg-ery: Sea Breeze Farms. They have bright yellow/orange yolks and a flavor that holds up to this spicy dish. Breakfast perfection.
The rest is easy. Some veggies, a squeeze of lime. If it's past 10am, serve with a Corona. If it's before 10am, serve with just half a Corona. Enjoy!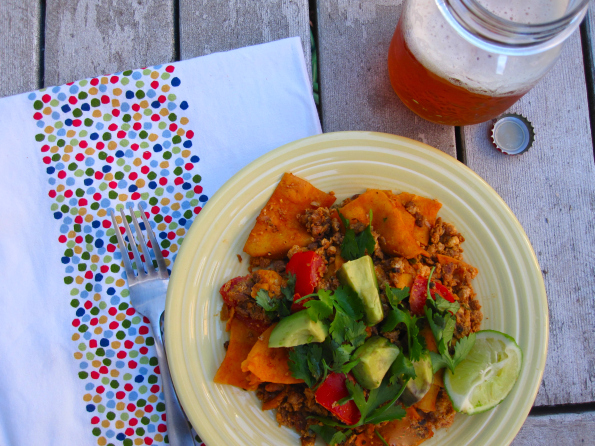 Vegetarian Migas
Olive oil, as much as you can stand
12 oz soy chorizo (Trader Joe's is very crumbly, Field Roast's is more sausage-like)
4 6-inch corn tortillas, cut or torn into bite sized pieces
1 medium onion, chopped
1-2 jalapeño, seeded and chopped
2 cloves garlic, minced
8 eggs, whisked
Salt and black pepper
4 tomatoes, seeded and diced
2 avocados, sliced
4 lime wedges
1 bunch cilantro
In a large skillet (cast iron if you have it) warm 2-4 tablespoons olive oil over medium heat. Add soy chorizo and stir until brown. About 5-8 minutes. Remove 3/4 of the browned chorizo, add another 2 tablespoons of olive oil and lightly fry tortillas, turning half way through. About 3-4 minutes. Remove tortillas and remaining chorizo.
More olive oil! Add onion, jalapeño, stir for 3 minutes. Add garlic, stir for another 1-2 minutes. Add a pinch of salt and two hearty pinches of pepper. Add chorizo and tortilla mix back to pan, incorporate onion mix and push to edges.
Whisk eggs together and pour into center of skillet. When eggs start to firm up ever so slightly (about 2 minutes) add in tomatoes. Stir the chorizo and tortilla mix into the eggs. Continue stirring until eggs are fully cooked. They will cling to the tortilla and sausage bits.
Serve immediately. Top each serving with a few avocado slices, cilantro sprigs and a very important squeeze of fresh lime.
Serves 4.