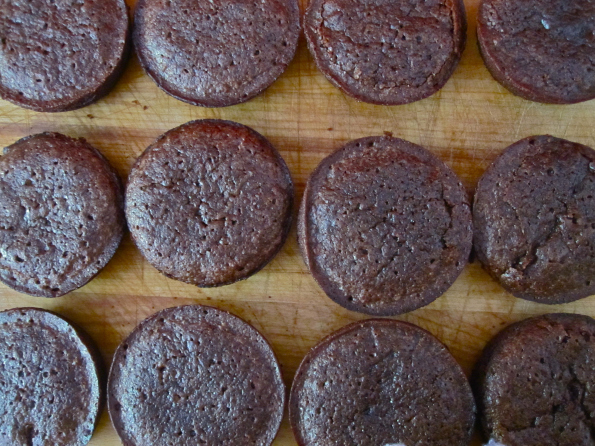 The brownie is a polarizing baked good. Either you're fudgy or chewy. A middle or an edge. I've heard legend of this debate devolving into arm wresting contests at county fairs. It's ruined friendships and ended marriages. Only the chunky vs. smooth peanut butter war has done more damage. It's true. And for those I'm about to offend, I hope we can find culinary middle ground somewhere else. Maybe with our preference of scones over muffins? Or our shared love of thin crust pizza? OK. Here goes:
I am a chewy edge person. I can't help it. I was born this way.
I am also a fan of chocolaty brownies, which you'd think would be a no-brainer but many recipes and mixes (gasp!) trade chocolate-depth in favor of overly sweet. What's a girl to do?
Consult Cook's Illustrated, that's what.
And when Cook's Illustrated gets all culi-nerdy with their talk of fat ratios and emulsification and THEN goes on to provide a recipe for a guaranteed chewy brownie that doesn't require a double boiler to melt the chocolate — SIGN! ME! UP!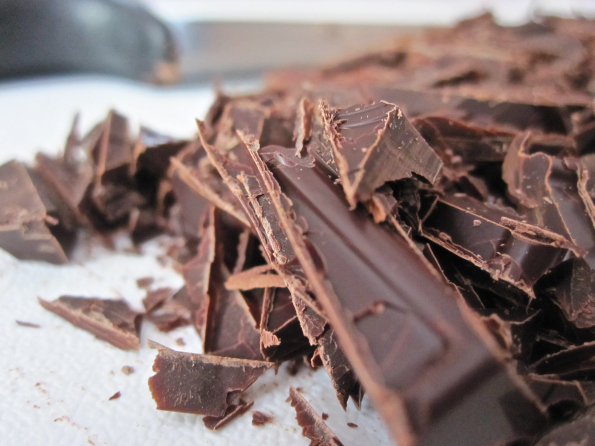 So that takes care of the chewy. Let's move to the edge.
You know that maze of a brownie pan? It's $35. Which isn't a total deal breaker but it's kinda single-purpose which, when you have a small kitchen, is a deal breaker. I can't have a special pan for everything I make because I would no longer fit in my kitchen. And fitting in my kitchen is key to using pans. See the problem?
Enter the muffin tin. The multi-purpose, edge-making wonder we already own and love. Plus the brownies this old-standby produces are round. Plus you don't need to cut them. And they are round. Like polka dots. Round. That's awesome. You know what else, they are round. Which means endless edges everywhere.
Quick recipe note: below is a snapshot of your brownie making future and I share it with you so you don't run panicking from the kitchen thinking a terrible mistake has been made. There is a moment, pre-eggs, where the batter looks a little wonky, almost curdled. See exhibit A. This is normal. I promise. Cook's Illustrated promises. When you add the eggs, mere moments later, you see exhibit B which is very spoon licking friendly.

I didn't use anything fancier than Ghirardelli chocolate and they were chocolaty-delicious. I imagine using a really high quality chocolate would make them even more so.
What else, what else? I don't think anything else! This is a pretty easy, one-bowl kind of deal. And now the recipe!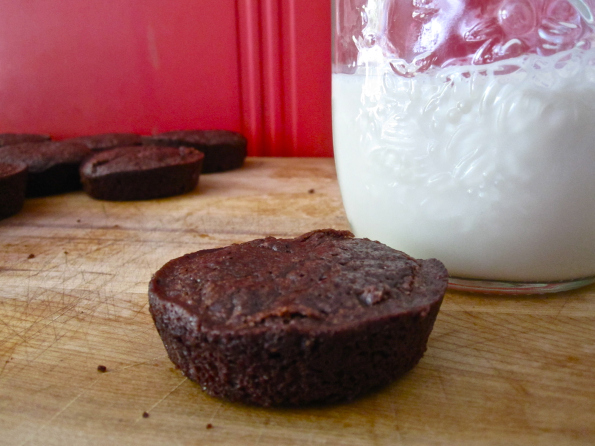 Chewy Brownies
(slightly adapted from Cook's Illustrated)
1/3 cup Dutch-processed cocoa
1/2 cup plus 2 tablespoons boiling water
2 ounces unsweetened chocolate , finely chopped
4 tablespoons (1/2 stick) unsalted butter , melted
1/2 cup plus 2 tablespoons vegetable oil
2 large eggs
2 large egg yolks
2 teaspoons vanilla extract
2 cups sugar
1 3/4 cups unbleached all-purpose flour
3/4 teaspoon table salt
Heat oven to 350.
Spray muffin tins with non-stick cooking spray. Be generous.
Whisk cocoa and boiling water together in large bowl until smooth. Add chopped, unsweetened chocolate and whisk until chocolate is melted. Whisk in melted butter and oil. (Here is where the batter may look curdled.) Add eggs, yolks, and vanilla and continue to whisk until smooth. Whisk in sugar until fully incorporated. Fold in flour and salt and mix with rubber spatula until combined.
Spoon batter into muffin tins, about 1/2 of an inch deep and bake 18 to 20 minutes, middle rack. When done, remove to cool, let cool for 90 minutes. (I know it will be hard. I know they smell good. For chewiness to develop the brownies need to be completely cooled, though. You can do it. I know you can!)
To get cooled brownies out of pan, a slight twist of each with your fingers should liberate them nicely.
Om nom nom.