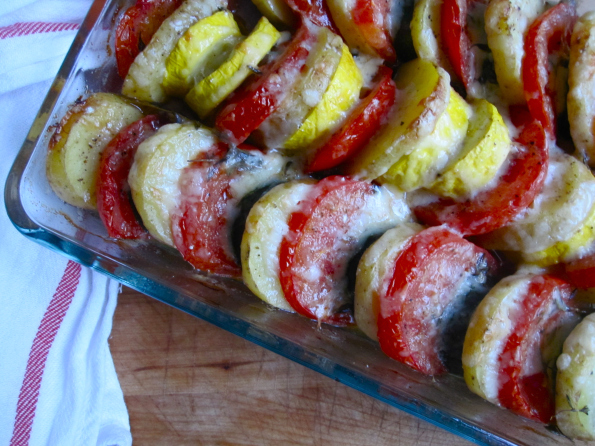 This recipe is so good that it doesn't even matter that I don't know what a tian is. Not one bit. It doesn't even matter that I was too lazy to Google it. And it especially doesn't matter that I thought it was a typo for "gratin" for a good 10 minutes while I wondered why it didn't have any cream in it. All those things don't matter because I can whip one up with the best of them and now you can, too.
And I hope you will.
The original recipe can be found here. Ina Garten is behind this casserole dish of deliciousness. Surely, you are not surprised. She has that way about her — that "let's just use thyme, salt and pepper" way. Simple dishes that exceed expectations. It's a classic under-promise/over-deliver. Potatoes, tomatoes, zucchini, thyme, a little cheese. "Sure, sure." you think. "That sounds good." but really it knocks your socks off and I can't explain why. It just does.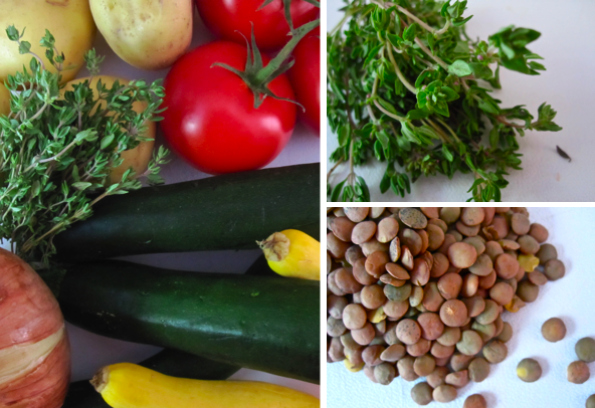 This recipe seems rather forgiving but here are some tips I'll pass along for good measure:
1) Be the weirdo trying to match the circumference of your potatoes, zucchinis and tomatoes in the produce department. Just embrace it. It doesn't really matter for cooking time but if you are looking to impress, starting with the same size produce will make that a little easier.
2) When slicing, be generous in width for the tomatoes and zucchini but go thinner on the potatoes. Not a crazy amount thinner, but a little. It will make for more even cooking.
3) I bought vine-on tomatoes but I think roma tomatoes would have worked great, too. (And more circumference matching friendly, I suspect.)
4) I initially wanted to add a bunch of stuff like eggplant or spinach but I didn't and am glad I didn't. There really is something quite lovely about this combo as is and I'd make it at least once without adding an interloper.
5) And now that I said that, I'm confessing that I added lentils. I didn't want a vegetable side dish, I wanted a main course which requires a little protein punch. The tomatoes and zucchini release a lot of water while cooking and the dry lentils had no trouble absorbing what they needed in the hour plus this bakes.
And lastly 6) If I were to make this vegan, I think I'd substitute dollops of vegan ricotta for the Gruyere as opposed to a mozzarella-melty type cheeze. I think it would be quite lovely. Or just leave the cheese off all together.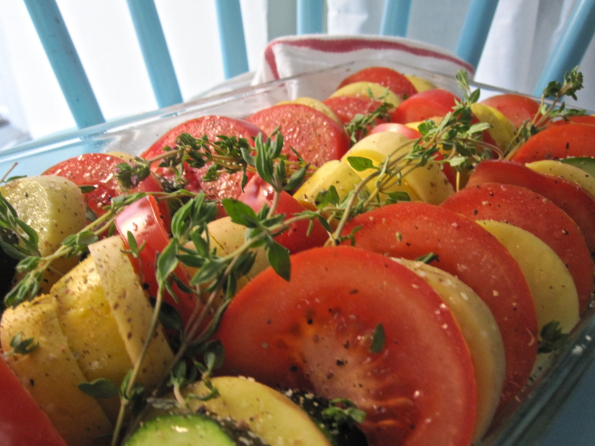 Vegetable Tian
(slightly adapted from Ina Garten)
Olive oil
1 large yellow onion, cut in half and thinly sliced
2 garlic cloves, crushed
4-5 small yukon gold potatoes
4 zucchini or summer squash (or a mix)
3 vine-on tomatoes or about 4-6 roma
1/2 c. dry lentils, rinsed
1 teaspoon salt
1/2 teaspoon black pepper
1 tablespoon fresh thyme, plus extra sprigs
As much Gruyere as you'd like, I used about 4 ounces
Preheat oven to 375.
Brush a 9 by 9 baking dish with olive oil or coat in cooking spray.
In your favorite saute pan heat 2 tablespoons of olive oil and cook onions over medium heat until translucent – about 10 minutes. Add the garlic and cook for another minute. Line the bottom of the baking dish with the onions. Sprinkle the dry lentils over the onion and garlic mix.
Slice the potatoes about 1/4 of an inch thick. Slice the zucchini, and tomatoes in 1/3-inch thick slices. Layer them alternately on top of the onions, fitting them tightly, kind of standing up, making just 1 layer. Sprinkle with salt, pepper, thyme leaves, and thyme sprigs and drizzle with some olive oil. Cover the dish with tin foil and bake for 40 minutes. Uncover the dish, remove the whole thyme sprigs, sprinkle the cheese on top, and bake for another 30 minutes until browned and bubbling.
Enjoy!