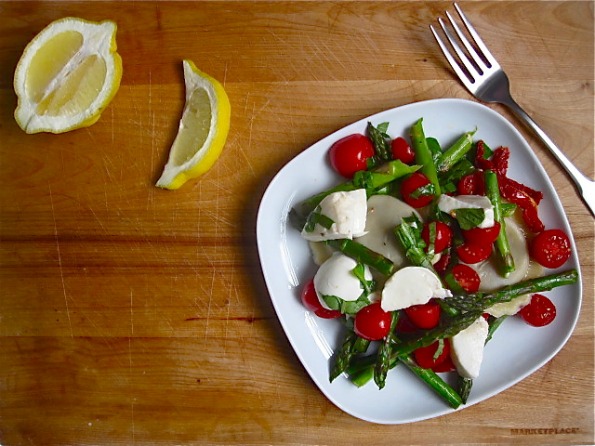 Remember me?
I wouldn't blame you if you didn't. I'm that girl. The one with the blog about vegetarian comfort food? You know, with the utensils. Is it coming back to you now? Oh, good.
Hello. *waves*
And look! I come bearing a recipe! Yes, it's a salad. Yes, my last post was about how I took a break from blogging and lost a buncha weight and stuff. Yes, a salad post seems oh-so predictable but it's a pasta salad. With cheese in it! I hope that makes it somewhat more tolerable.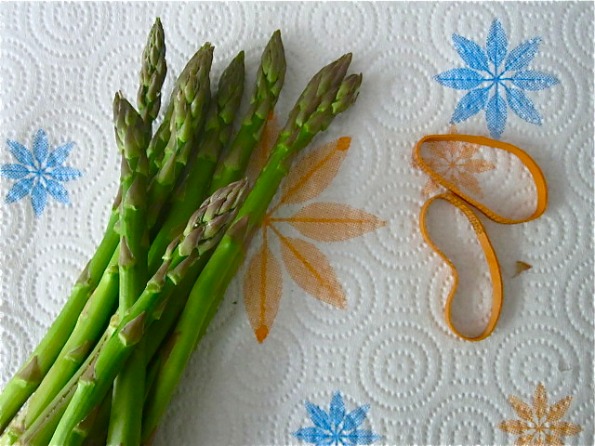 Before we get too excited, you could accuse this recipe of being low-calorie, though. That would be correct. I've been trying to perfect the art of satisfying meals that are around 400 calories. I've come to realize that 400 calories is only satisfying if you make it yourself, with a very few notable exceptions such as a couple varieties of Amy's frozen dinners, maybe a slice of cheese pizza and a side salad. But most meals in that range leave you wanting more. I think that it's not necessarily because you aren't full, or at least full enough, but because the experience of eating them can be so utterly unsatisfying.
Here is what I found satisfies me:
Variety: Not meal-to-meal variety, but in-meal variety. I like dinners that are more than just one bowl of the same item. I like to add in a salad, some grilled vegetables or really good bread. All three? Sure!
Salty, tangy, crunchy, hot: This is technically a type of variety, too, I suppose but I feel most satisfied if a meal contains all of the above. Salt (table or soy sauce), tangy (citrus or vinegar dressings), crunchy (makes noise when you bite it) and hot (warm, not spicy) all need to represent for me to feel the ahhhh of eating a satisfying dinner.
I made it myself, or at least added to it: It's not always possible to cook every. Single. Night. Of the week. So figuring out what frozen foods were most satisfying and having them on hand was key. Adding a salad and maybe a hunk of warm bread was also key.
I'm curious to hear what satisfies you. I know Oprah is on board with needing crunchy. I have a number of friends who require warm things to feel like they ate dinner. I know people who find smoothies totally satisfying (I'm not in that camp at all.) Please chime in, you know, if you're feeling talkative.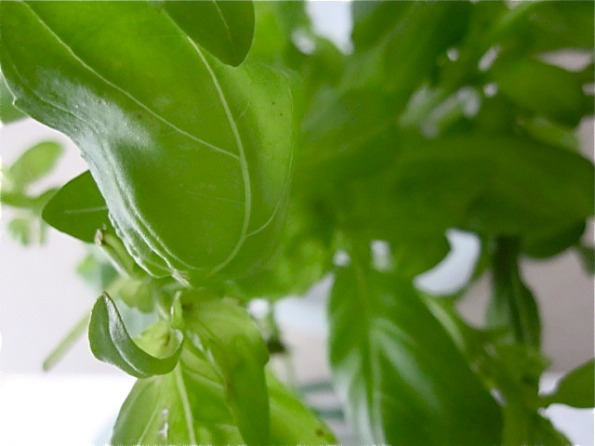 The recipe! It's simple, delicious and meets all of my very stringent requirements for satisfaction. Total score! I hope you like it!
Caprese Pasta Salad with Asparagus
(I'll include a calorie count. Is that annoying? Makes 1 serving.)
1 fistful of asparagus
1/2-1c of cherry tomatoes, halved
1 T of sun-dried tomatoes (not packed in oil, Trader Joe's has great sun-dried tomatoes in a bag)
A few leaves of fresh basil, chiffonade or torn
1/2 serving mushroom stuffed ravioli, from the refrigerator case is best.
1.5 ounces fresh mozzarella, cut into chunks or use the small ball type
1 lemon wedge
Salt & pepper
Start water for the ravioli.
Wash asparagus and trim ends, cut remaining length of spears in half. Saute with salt, pepper (perhaps a little garlic if you'd like to add it) over medium heat until cooked and slightly blackened in areas, about 5-7 minutes. Put asparagus in bowl and add basil and sun-dried tomatoes. The heat activates the delicious smell of both the tomatoes and basil. Set aside.
When ravioli water is boiling, add ravioli. Check package instructions — typically will need to boil for 4-6 minutes. When done drain and rinse briefly in cold water to cool pasta slightly. Add pasta to other ingredients.
Add the fresh mozzarella and cherry tomatoes. Salt and pepper to taste. Squeeze lemon wedge over dish and toss to combine all flavors.
Serve with a warm, crusty serving of high-quality French bread.
Calorie breakdown: Total (255 calories) Asparagus (20), cherry tomatoes (25), sun-dried tomatoes (20), fresh basil (0), mushroom stuffed ravioli (100), fresh mozzarella (90), lemon wedge (0), salt and pepper (0). If you add French bread (120-150 cals) the total for this comes in at 405 calories.
One last note! I promise I'm not starving myself. I try to eat smaller meals because I like to snack and I like to have dessert. So while I shoot for 400 calories a meal, it's supplemented by a number of little treats like Greek yogurt, KIND bars, and ice cream sandwiches. OM NOM NOM, etc.