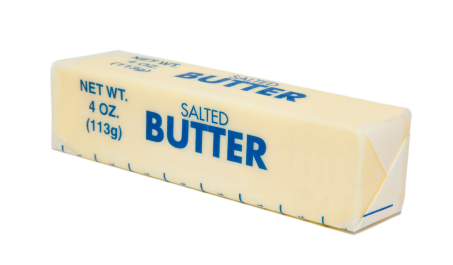 Butter.
It's tasty. It's versatile. It's a nice shade of yellow. And while I don't actually blame it for my jeans not fitting around Thanksgiving of last year, I totally blame it for my jeans not fitting around Thanksgiving of last year. To be fair sugar, cheese, maple syrup and garlic bread probably share some of the blame.
I've never been tiny so the weight gain was, literally, nothing new but it seemed a bad trend with no end in sight if I kept cooking and eating and OMG I MUST MAKE <INSERT DESSERTY ITEM HERE>!!!!!!1.
But weight and women can be complicated. Do I really blame butter? No. (I wish it were that simple!) It's, of course, all about choices. The first and most important choices I made were around how I wanted to feel and less around what I wanted to eat. I wanted to feel  more comfortable, more confident and more accomplished. I was tired of wanting to lose weight, losing some, gaining some, losing some, gaining some etc. etc. forever and ever. When I looked at how I was spending my free time, it was spent making myself hungry. You fellow food bloggers — MAN — you make and photograph some delicious looking things. Especially pies. And pots de crème. And gratins of all sorts. My mouth was constantly watering. Wait, watering? CHEWING. My mouth was constantly chewing.
Not all women have weight or food issues. Not all food bloggers have weight or food issues. Losing weight and food blogging had a hard time coexisting in *my* world but I can see (and have read!) how the two can go hand in hand for others. I tried to write an I'm-putting-my-blog-on-hold post about 100 times but the words just wouldn't lay neatly on the page. I think initially, with the risk of failing or feeling foolish, I sort of kept it quiet. It's now, 58 pounds later, that I don't mind sharing where I've been and what I've been doing because HI, I HAVE ALL NEW PANTS.
I can't promise I'll post more. I'm wondering and debating if I could resurrect this little piece of internet real estate and post recipes of healthier fare and maybe talk about running a little? Like I could tell you that I had to ice my knee today and it made me feel like a total badass. Or I could tell you something about how it looks like I killed a guy in my kitchen because I roasted three beets for a salad tomorrow. That'd be OK, yeah?
So thank you all for the comments and notes checking in on me. So kind of you! I am doing really really well. Really well. Thank you for asking and I hope you're doing at least three really-s worth of well, too. XOXO.